My Belated Birthday Post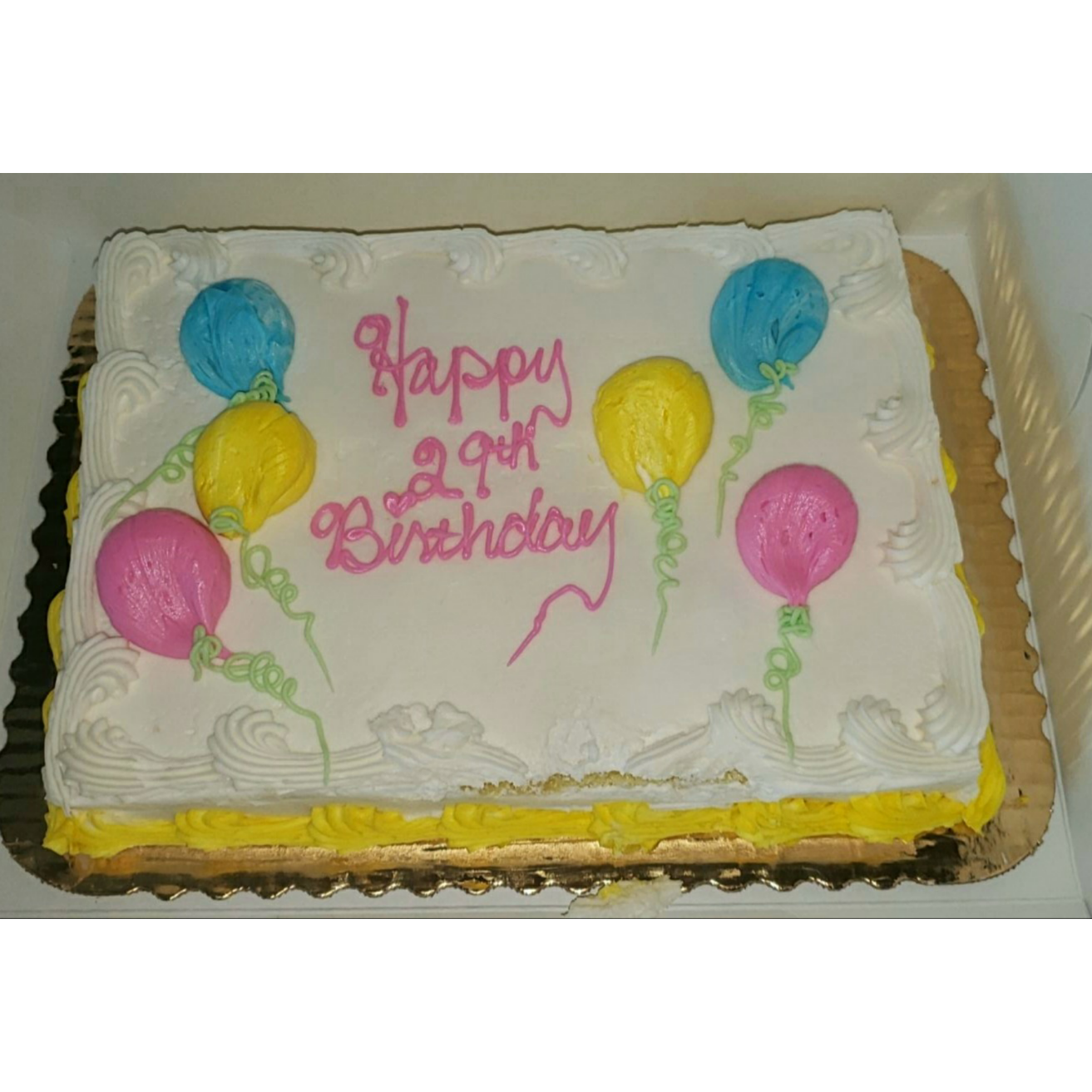 United States
October 14, 2021 12:55am CST
Figured it was about time I post about my 29th birthday back on August 2nd. Though it's nothing exciting lol. Few days before it I ordered myself a birthday cake at the grocery stores bakery. And the day before my birthday the fiance went with me to pick it up and he surprised me by paying for it. On my birthday, the fiance was obviously still here and mom was off from work. And if I remember right, the Fiance and I slept in like usual from going to bed late from not feeling good. Once we got up and dressed for the day no one had plans for my "special" day, so I did get a bit angry. But then I looked up mini-golfs in our area and found one none of us have been to before. So we all got ready and left. It was a neat and definitely different mini-golf, that had a small arcade and ice cream shop next to it. Which we looked around the arcade before leaving as I had to pee, and they had alot of old games I remember playing as a kid. The only problem with the place was that one of the holes was closed from I believe a clogging problem. So we had to do one of the other holes a second time - but it was our choice of which one so that was cool. We even saw a baby bunny in a bush at one of the holes. It was so cute. Oh and of course the fiance won.. and we all said we'd go again. After we got in the car to leave no one had ideas again so I looked up if there was another one nearby there we haven't been to yet.. found one just down the road so we went to it. This mini-golf also had an ice cream shop next to it, as well as a little restaurant place.. but the mini-golf wasn't really any good. Though it was cheaper than every other one we've been to.. But between some of the courses not working how they're supposed to and it just not being creative enough.. and then it was now dark and the bugs for some reason were out more than before so I was bit a few times which is always annoying.. ugh. Glad we tried it though. Least we know we don't like it and we had some laughs. Plus the fiance won again which he loves hearing. *eye roll* Now it was late and we didn't think we'd have time to go eat. But I looked up Olive Gardens hours and they were still open so we headed there. And as usual it was a very delicious dinner. On the way home we stopped at CVS so I could buy a Nintendo Switch online card, and then once home mom fell asleep on the couch while the fiance and I played Mario Party on the Switch. And I took some photos of us. The day after my birthday the fiance and I went to the mall so he could pick up my gift that he ordered online, but wasn't ready to get before my birthday. It was the Piglet necklace I had been eyeing at Kay Jewelers from the Disney collection. Then after he put it on me we went to Ihop for a late lunch early dinner. Photo, my cake. Simple but so delicious
10 responses

• Montrose, Scotland
14 Oct
I laughed at one bit Right at the start Fiance surprised you by paying for the birthday cake!! What made you feel not good on your birthday? No plans for your " special day", what a bummer but glad you found the mini golf. I've played around before you know. A hole in one I got lol It was good that you got another mini golf gig We ain't got that here Olive Gardens sound nice. Hope fiance paid for dinner Are you going to post the pics you took? Glad you liked the piglet necklace Sounds like an OK.birthday to me Nice cake, I would eat it, and your bit too

• United States
14 Oct
Lol. I was only surprised because I was supposed to buy it but he took his card out when we got to the register. Pretty sure he bought dinner but don't remember. The necklace is so nice! Should be for the $300ish it cost. They also have a tigger and winnie the pooh one that I eventually want to get. Neither him or I have really felt good for about two years.

• Montrose, Scotland
14 Oct


• United States
18 Oct
Oh man I'm really craving cake now after seeing your cake photo last night and now this

. It's my sons birthday and I have a cake for him so hopefully I can eat it. Not sure if it has milk in it I have to look but I don't think so. My daughter is buying a Nintendo switch off her co-worker soon.

• United States
18 Oct
Happy birthday to him!! Hope he's having a great day! Hope you can have some of that cake too! What kind did you get him? She's going to like it !

• United States
19 Oct
@Courtlynn
the cake didn't have any milk so I was able to have some. I had froze it after buying it so it would last until his birthday. I thawed it out about 3 hours before we ate it but that wasn't long enough so it was still were cold and hard. Leftovers should be better today. I bought cookies and cream Klondike bars too but I obviously couldn't eat those. He said his birthday was boring this year. I said that's just kind of how it is as we get older. His grandfather on his dads side dropped by. My sister, parents and my sisters kids stopped by later on. He opened his presents when he got up and we had the cake and Klondike bars about an hour after dinner. Not really all that much more to do at 14.

• United States
20 Oct
@shaggin
not much to do with the virus still too. I mean yeah things are open but all depends on each individual as to what theyre willing to do right now. Plus you have the baby to worry about. Can always celebrate it out later too.. but yes unless you're a "partier" birthdays definitely get boring as you age. Unfortunately.

• Onaway, Michigan
14 Oct
Happy belated birthday mine was the 11th of this month. Sounds like you all had fun.

• Onaway, Michigan
15 Oct



• United States
14 Oct
Hi Courtney!! that was a really nice gift your fiancé got you from Kay Jewelers. All in all it sounds like you had a good birthday

• United States
14 Oct
In total between the three days, I did. Thank you.

• Canada
14 Oct
Happy belated Birthday, it sounds like you had a great day. You love mini golf, have you ever tried regular golf? I never had any desire to try it until last summer, during the first summer with the pandemic it was about all that you could do safely and my hubby likes to play golf with someone, so that was me. Now I do enjoy it alot more.

• United States
14 Oct
Not a great day, but between the three days it was good in total. Definitely love mini-golf never did regular golf. Not coordinated.and no patience to try.. he wishes i did though cuz he loves it and doesnt always like going to play alone as he doesnt like getting stuck with strangers


• United States
14 Oct
I wouldn't say that but thank you


• Roseburg, Oregon
14 Oct
So you did have a nice Birthday. Happy late birthday wish.

• United States
14 Oct
It was half and half on the day. But nice between the three days.. thank you