Is it too late?

Indonesia
December 27, 2021 8:53am CST
Is it too late to say Merry Christmas? Well, Merry Christmas everyone


hope you have great christmas. I don't do anything special, only sent cheesecakes to my close friends. Tbh i wanted to make it my own but i didn't have the time haha so i just bought the cheesecakes. What did you guys do on christmas?
2 responses

• United States
27 Dec
Merry Christmas! (It's only too late if you want it to be too late.

) Pretty and I made shawarma for Christmas dinner and slept the rest of the day.

• United States
29 Dec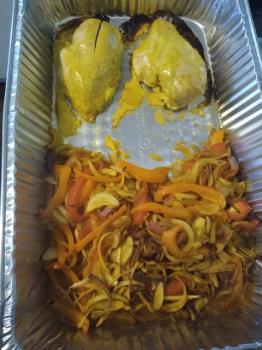 @nzlz123
Nope, no snow here although, it has been storming off and on for the last few days. I made two big pans of shawarma so I'd be ready when you came for Christmas... I was disappointed when you didn't show up.


(I cooked lots so I could pack individual Ziploc baggies and freeze them for meals later and don't have to cook shawarma again for a couple of months. There are nine baggies in the freezer now.) Shawarma. Photo is mine.

• Indonesia
30 Dec
@DaddyEvil
storm is scary. Hahahah you miss me huh?


Nine baggies? Wow you indeed made lot of it


• Zagreb, Croatia (Hrvatska)
27 Dec
It is not!happy Christmas, dear



• Zagreb, Croatia (Hrvatska)
29 Dec
@nzlz123
ate,talking to my parents,being joyful


• Indonesia
30 Dec
@moonandstars
those are great things to do. Especially the ate part haha