"In the Foothills of the Smokies, Way Down in Union County" (Part 1)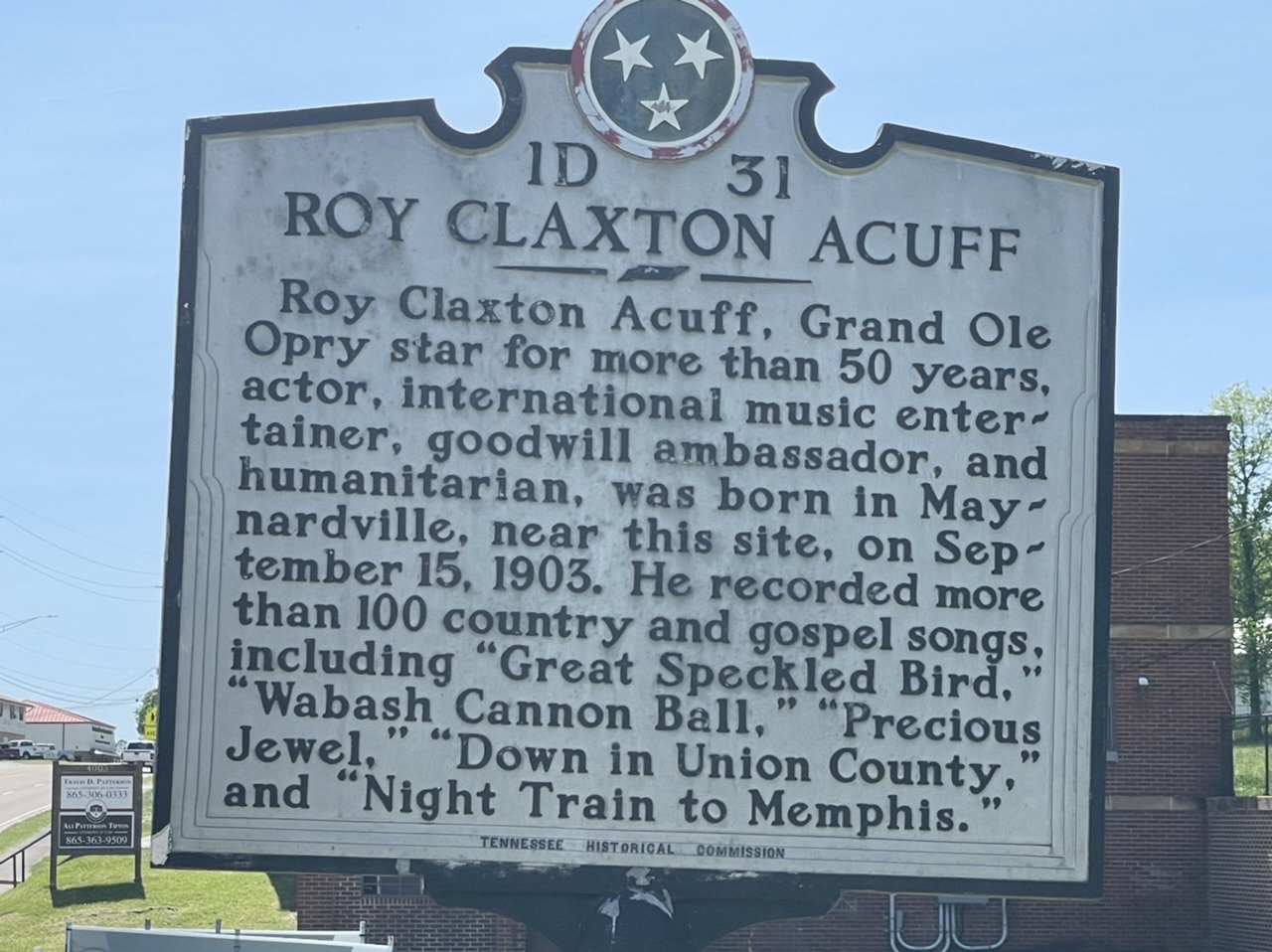 United States
May 13, 2022 8:49pm CST
One of the great things about eastern Tennessee is the countless contributions it's given the world with sons and daughters who became country music legends. (Or, if you hate country music, that can be a bad thing.

) While on my way home I paid a visit to two towns in Union County, Tennessee that helped make country music legendary. The first stop was Maynardville. It's the county seat of Union County. If it weren't for country music it wouldn't have been thought of as anything else. However, two Hall of Fame greats were born in the small town. Carl Smith (disclaimer: my dad's favorite singer) was born there in 1927. His career spanned from the early 1950s until the 1970s, when he retired from music and became a horse farmer. In addition to his long list of hits, he also gave the world his daughter, Carlene Carter (from his marriage to June Carter…yes, as in June Carter
Cash
). He died of a stroke in 2010. But country music's incredible popularity was personified in the other Maynardville native son, one Roy Claxton Acuff. While people today call George Strait "King George," the only plaque in the Hall of Fame with the words "King of Country Music" on them belongs to Mr. Acuff. Acuff wasn't going to sing (if you listen to the song linked below, you'll probably claim he
couldn't

); rather, his way of putting Maynardville on the map was to be a pitcher for the New York Giants. That was derailed thanks to sunstroke, which took Acuff
years
to recover from. While confined indoors, he borrowed his dad's fiddle and began teaching himself the instrument. As there isn't much sunlight in a recording studio or on a stage at night, his new career path was set. Alton Delmore (in his book
Truth Is Stranger Than Publicity
) claimed responsibility for helping get Acuff to Nashville, but Acuff was a HOT property in Knoxville on the radio without any help. That popularity got him a recording deal, major hits such as "Wabash Cannonball" and "The Great Speckle Bird," and the rest is history. And I do mean
history.
During World War II Japanese kamikaze pilots attacked with reported cries of, "To hell with Roosevelt! To hell with Babe Ruth! And to hell with Roy Acuff!" Acuff and his son co-wrote a song called "Smokey Mountain Memories" (not to be confused with Mel Street's hit "Smoky Mountain Memory," like anyone would know either song….


) that remembered "a better place and time" growing up there. Roy Acuff was the first celebrity I ever met, in 1968. There wasn't a thing "celebrity" about him, because the simple country boy from Maynardville was a simple man from Maynardville. All the fame in the world didn't change that. Roy's song "Smokey Mountain Memories" (and yeah, I know, regarding his singing…..but I love it):

Your browser isn't supported anymore. Update it to get the best YouTube experience and our latest features. Learn moreRemind me later
3 responses

• El Paso, Texas
14 May
I don't recall dad mentioning him in particular but he sure did like the Grand ole Oprey Dad loved Bill and Charlie Monroe especially the tune Will The Circle be Unbroken ..... dad was born in 1921 so he was more familiar with old timers in the country music field.

• United States
14 May
I love the Monroe Brothers, too. Charlie didn't have nearly the success as Bill did when they went their separate ways. I learned a lot about the old timers from my parents, but I also picked up a lot of it on my own.

• El Paso, Texas
14 May
I didn't pursue country music, instead I got into Beatlemania as soon as I heard of them. I was sick and tired of either country or opera ..... my parents were an odd couple.

• United States
14 May
@rebelann
— I kind of like
The Mikado,
although my snooty music professor told me that's not a "real" opera.




• United States
14 May
Oh I had a blast. As usual, the trip through Union County was totally unplanned.

• United States
14 May
@CarolDM
— I just saw the sign pointing to Maynardville and said, "Hey, that's where Roy Acuff is from!" And off I went. From there I saw the Luttrell sign Incorrigible, aren't I?



• United States
14 May
Thanks for taking us on the trip with you. Drive safely and keep us posted!