Palais Bahia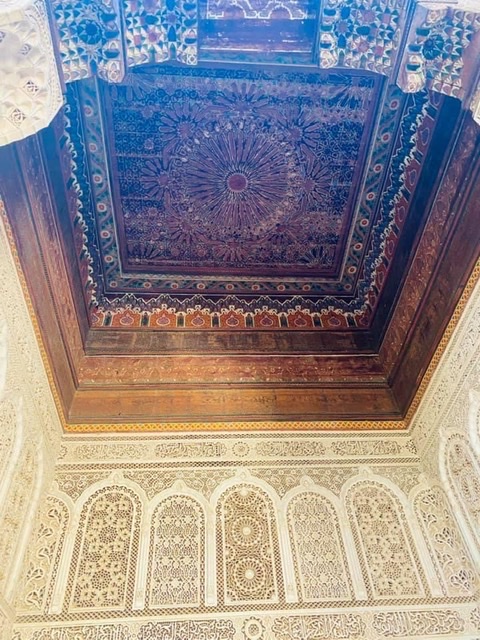 United Kingdom
August 4, 2022 11:39am CST
Facebook reminded me of my visit to Bahia Palace when I was in Morocco 2 years ago. I was in awe with the palace. The place has the most intricate details. I fell in love and wonder about the painstaking process of putting it all together. Interesting to note, the ceiling was hand painted by real nature colours of saffron and poppy. I wish I could travel again soon.
6 responses

• United States
4 Aug
I wish you could too..it is great to travel. I too have seen some beautiful things in my travels. This one is super colorful.

• United Kingdom
4 Aug
I was amazed they didn't use any synthetic paint for this. Where is your favourite travel destination Becca?

• United States
4 Aug
@flapiz
Well I have not been to many countries mainly England, Ireland, Scotland, Wales and France. So from what I have seen, I tend to enjoy the beautfy of Ireland most.

• United Kingdom
4 Aug
@RebeccasFarm
I haven't been to Ireland and that is probably the easiest country for me to go to as it is still part of the UK. Do you like the North or the south of Ireland?


• Philippines
4 Aug
wow this is the real deal this is what a really great place to see

• United Kingdom
4 Aug
Indeed it opens me to a different level of architecture.

• Philippines
4 Aug
@flapiz
yep it is a very great architecture

• Roseburg, Oregon
4 Aug
We are going to travel after we get our car back from getting a new door.

• Cagayan De Oro, Philippines
5 Aug
How nice to be there too, but it seems impossible. Happy to see how it looks. Thanks for sharing.

• United Kingdom
5 Aug
Well it is possible. You ca. save for it. Morocco is not a very expensive country to travel to.

• Rockingham, Australia
5 Aug
Some Asian architecture is very intricate too. I guess every country has its beautiful buildings but some do seem more intricate than others.

• United Kingdom
5 Aug
You are right. Chinese carvings are quite beautiful as well as Indonesian ones. It's my first time then to travel to a Muslim country so it was very new and fresh for me. Very different from what I am used to.

• Quezon City, Philippines
4 Aug
Yes. Morocco. I'm amazed also with their detailed paintings.

• United Kingdom
4 Aug
I love the mix of Muslim and Spanish architecture too. Very posh yet homey.