THANKSGIVING WEEK FORT LAUDERDALE 2022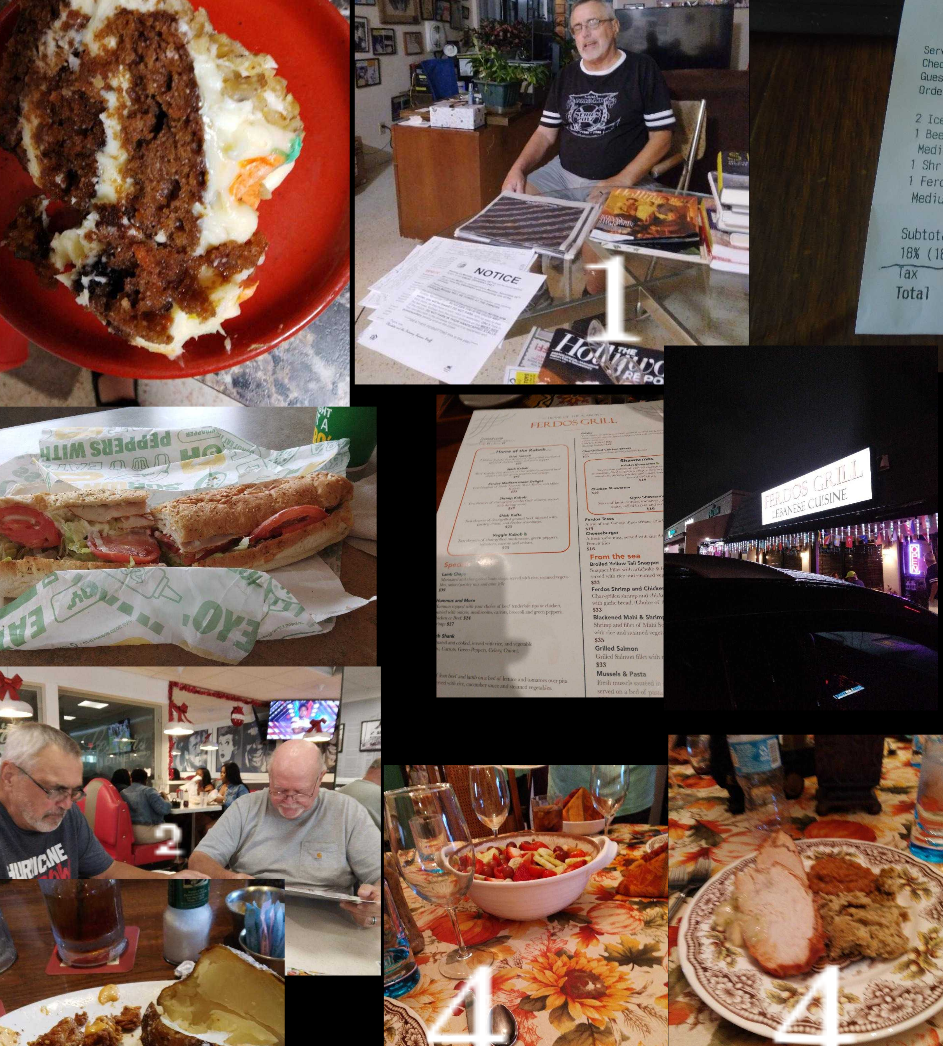 Ft. Lauderdale, Florida
November 29, 2022 4:27pm CST
(SORRY BUT I HAD TO CUT THE COLLAGE WAY BACK AS IT WOULDN'T POST OTHERWISE!) I don't know what you do Thanksgiving week but I eat and that's always nicer if you have someone to do it with--you can blame them for your weight gain as I did when I got on the scale at my primary doctor's office when I got on the scale yesterday! It all started when Chuck (picture #1) and Terry (pictures numbered 2) came down from Port Richey and we went to dinner at Ferdos for kebobs and I goofed because I didn't read the check and missed that there had been an 18% tip (though it doesn't say that is what it is (see 3rd picture on top row from the left) on it. I don't blame the waiter because he got double tipped (Chuck put down a $20 bill) by not telling us--payback from when I was a waiter and 'forgot' to tell the customer about the tip on the check! On Thursday I had been invited to Luiz & John's place for Thanksgiving dinner up in Pompano Beach (see the #4 pictures--he is in the striped shirt) and he had invited 2 other people and a good time was had by all and certainly a lot of food but I behaved. (I always do when I am eating in front of strangers the first time! LOL) On Friday Allen and I met Chuck and Terry at the Outback after we had gone shopping at Winn Dixie. While waiting I had a loaf of bread and when they arrived Terry ordered a blooming onion to start and it would have been rude if I didn't have some when he offered (just as it would have been rude if I didn't take home what was left of it after dinner--along with the baked potato and shrimp--that was partially what I blamed them for my weight gain!) I like the Outback but forgot to tell them to go easy on the steak with the spices. Also they didn't have the new pasta dinner I wanted to try--seems they ran out of it on Turkey Day!) The two 'kids', Chuck & Terry had been at a softball game---Chuck was an umpire--but they couldn't take the heat (87 degrees) and humidity so they had a bite and stayed in while I went to Subway for a 'snack'--hey, I had a turkey sub for the day after holiday! On Sunday they came by, picked me up and we went to Lester's diner. I hadn't been there in awhile but they were good as always--I had a turkey sandwich!! Come on, it was Thanksgiving Weekend! And, it was HIS fault--Terry ordered a piece of carrot cake for me to take home (very first picture on top on the left) and since he was company how could I refuse? (But good little me--I didn't eat it until I got home AFTER going to the doctor and being weighed on Monday!) Yes, I gained weight but it was worth it seeing Chuck & Terry and spending the holiday with them. And now I starve until Hanukkah & Christmas so I can eat again and I don't see a doctor until January and that is my podiatrist and he won't say anything IF I do gain a 'few' pounds!
7 responses


• Ft. Lauderdale, Florida
29 Nov
I keep on making the collage smaller and smaller but-----will try again!! :O) Will see if I can put it here!

• United States
29 Nov
@GreatMartin
Now I see it. The carrot cake, oh my goodness does that look good.

• Ft. Lauderdale, Florida
30 Nov
@CarolDM
It WAS!!!!



• San Jose, California
30 Nov
You had some good eating! What do you plan to eat for Hanukkah? I know our store will be serving brisket and latkes with applesauce that week.

• Ft. Lauderdale, Florida
30 Nov
It is the only time of the year that I eat latkes and I mean I EAT LATKES!!!!!!



• San Jose, California
30 Nov
@GreatMartin
I haven't eaten any in so long, I should make some again sometime. Unfortunately, the ones at the store arrive premade and frozen, but I've got a good recipe and can make better ones at home.

• Boise, Idaho
29 Nov
The third pic is cut off and I just see the corner of a piece of paper. Good food and good folks, what more does one need?


• Boise, Idaho
2 Dec
@GreatMartin
.......It's probably Mylot. It has a mind of it's own. Windows 11 is great.

• Ft. Lauderdale, Florida
30 Nov
I don't know whether it is mylot or now that I am on windows 11 but I tried 6 SIX different collages before I could download this one.


• Daytona Beach, Florida
30 Nov
Enjoy your food and I hope you'll have happy holidays,


• Ft. Lauderdale, Florida
1 Dec
What's a calorie????? I'm sure carrot cake doesn't have any!!!!


• United States
30 Nov
Thank you for the update. I don't DARE get on the scale as least for a week. Whatever didn't move, I ate. Have a great day.