First Morning in Camp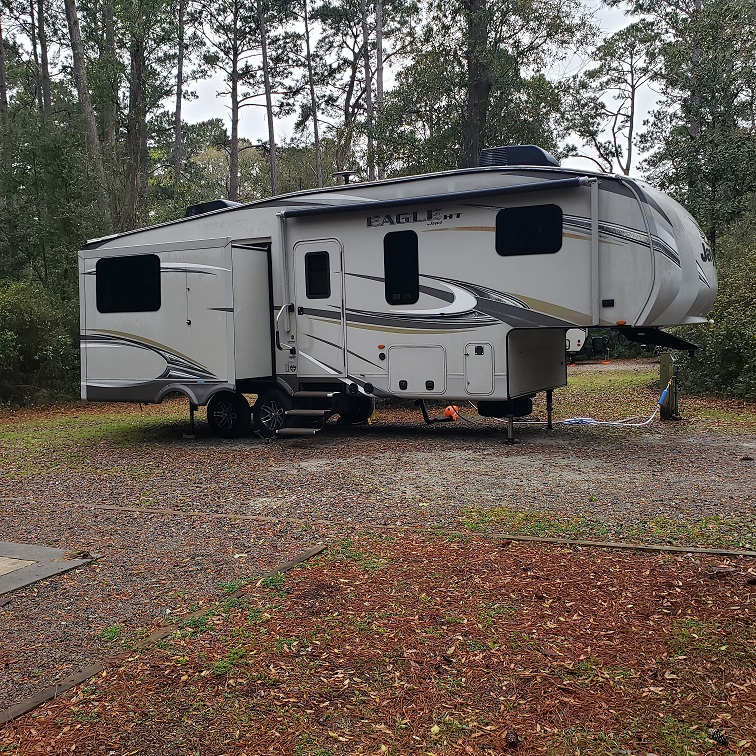 Pikeville, North Carolina
March 18, 2023 8:04am CST
We arrived here at Carolina Beach State Park last evening at about 6:30 pm and got set up before dark. We didn't put out any of our outdoor chairs or the screen room because of the forecast for rain. I'm not sure when the rain started, but it woke me up sometime after 4 am and has been raining on and off since then. I stepped outside to take the title photo shortly after we finished breakfast during a lull in the precipitation. K just left to take Sophie for a walk and had been gone about three minutes when the rain began to fall again. We ordered breakfast from the Southerly Biscuit and Pie Company, an independent bakery only a mile or so from the campground. Both of us ordered the biscuit with sausage gravy - a perfect meal for a wet morning. Walking on the beach is out of the question for today. Staying in the camper and getting some writing done, watching some movies, and doing some reading is much more in keeping with the situation. How is your weekend shaping up?
7 responses

• Marion, Ohio
18 Mar
Have fun and hopefully it stops raining there. It is cold and windy here so I will be staying inside

• Pikeville, North Carolina
19 Mar
@wolfgirl569
It does make us appreciate being in a 5th wheel camper instead of a tent.


• Montrose, Scotland
18 Mar
Wow That is an impressive camper Must fly Yvonne wants to get to a shop before it closes at 2.30pm Enjoy the trip.

• Montrose, Scotland
18 Mar
@DWDavis
Me and Yvonne never got past a tent lol In 2021 we had a 4 month holiday under canvas. Awesome

• Pikeville, North Carolina
19 Mar
@JimBo452020
The longest I spent living under canvas was on the Korean DMZ in the late winter and early spring of 1986. 75 days.


• United States
20 Mar
I enjoy going to independent bakeries. Sounds like a nice relaxing day!

• Rockingham, Australia
18 Mar
That's a shame about the rain but have a relaxed day.

• Rockingham, Australia
20 Mar
@DWDavis
Some cope with confinement better than others.

• Zagreb, Croatia (Hrvatska)
18 Mar
whst a lovely idea. i have a toothache, 2days after dentist appointment, a hsrd one.don't get it. i hope it will pass.if not, have to ring him.

• Zagreb, Croatia (Hrvatska)
19 Mar
@DWDavis
he put a medicine in my tooth, after he did my root canals therefore, not sure is this kind of a reaction. i usually wait for 3 days and tomorrow is the third day

thank you.

• Wheat Ridge, Colorado
18 Mar
This photo reminds me of those few precious months I spent camping in our RV at the beach too. Have fun DW.