Frugal Food: What's for din? 3.24.23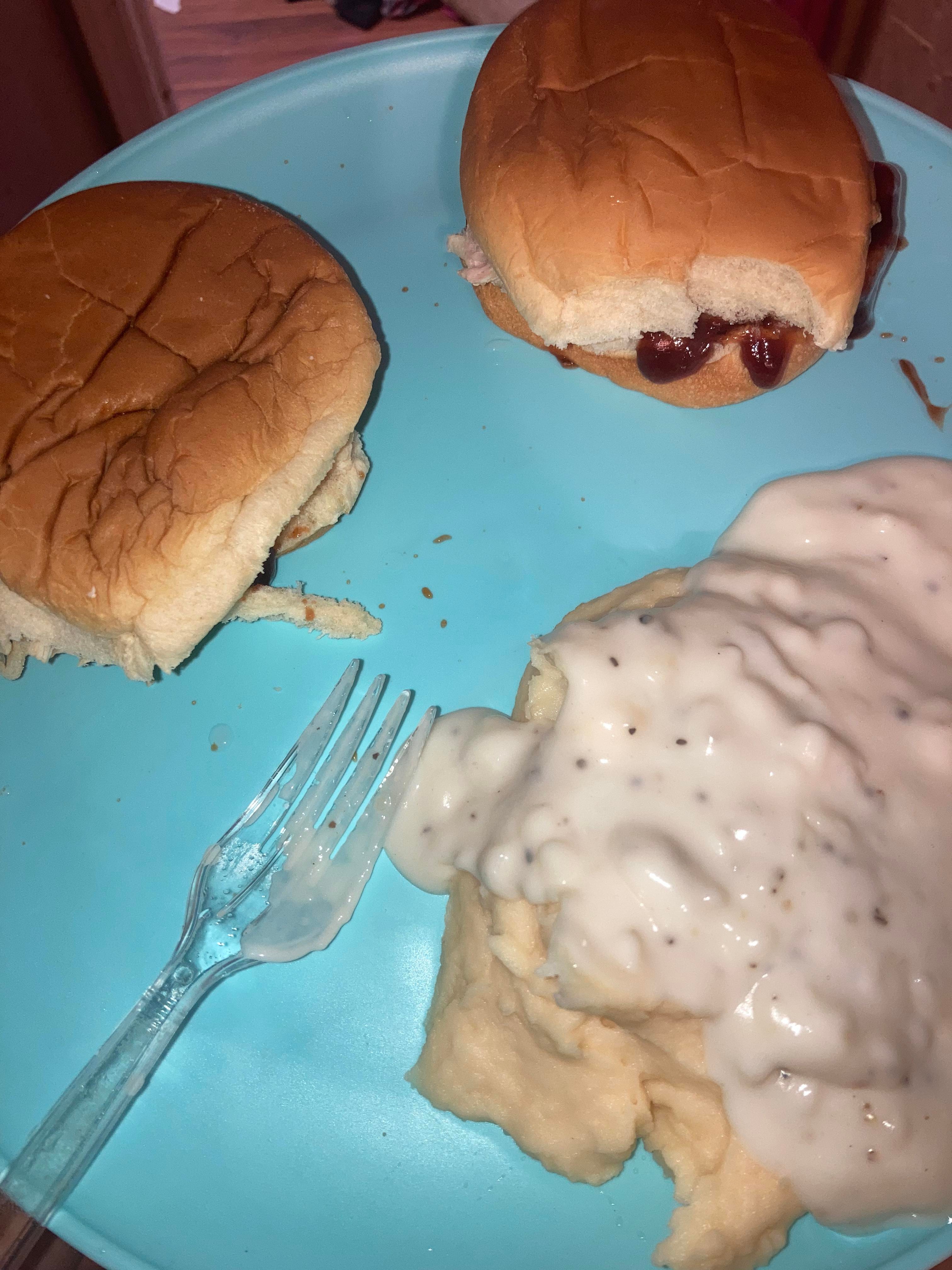 Defuniak Springs, Florida
March 24, 2023 8:12pm CST
We had a he child sighting today, but he stayed at grandma's anyway. She child is at a sleepover. So it's just Chris and I for dinner. Doing it super cheap and super easy tonight. I took a bag of that frozen, fully cooked chicken breast out of the freezer, it is cooking down on the stove with seasoning and I will add bbq sauce once it gets more shreddy. I got a bag of buns at Dollar Tree tonight, and I have some mashed potatoes that we got from snack guy which I will make. So dinner will cost around $4.00 for both of us, or $2.00 each. Probably even less than that. That's what is going on tonight, what about at your house?
5 responses

• Montrose, Scotland
25 Mar
The kids away It's time to play

• Defuniak Springs, Florida
25 Mar
We we did our smoking, and now I'm making bbq. We are watching a new show we found on Paramount called School Spirits which is pretty good.

• Montrose, Scotland
25 Mar
@thislittlepennyearns
I found another bag of weed lol Thinking I might have a smoke And just sit and post on here. Couldn't be bothered with telly just now I like the peace and quiet at this time 1.30am

• Defuniak Springs, Florida
25 Mar
@JimBo452020
I always have noise. Even when sleeping.. If i wake up in the middle of the night and there;s no noise i turn it back on


• Gainesville, Florida
25 Mar
I made Asian stir fry last night. Fried rice and spicy orange chicken. Wasn't really what I wanted, but it's what the girls wanted, so I cooked it up for them. I was in the mood for BBQ, but the chicken and rice was still pretty good.


• Gainesville, Florida
29 Mar
@thislittlepennyearns
For as much as I hate Subway, most of the time I go there the food is better than I expect it to be.

• Defuniak Springs, Florida
31 Mar
@moffittjc
We prefer Firehouse, but we don't have one in town. When I lived in Oregon I ate Subway often, they had an amazing salmon sandwich. But currently the Great Garlic is my fav. Garlic aoili, shredded chicken, cheese, salt and pepper and spinach is what i get on it. I think its supposed ot have tomatoes and onions. But ew.

• Defuniak Springs, Florida
28 Mar
Last night we had Whataburger! I've been on a Whataburger kick. We had Subway today for a late lunch, and it was actually surprisingly good. I am making hamburger helper tonight.


• Roseburg, Oregon
25 Mar
Your meal sounds really good. We had pork steak, corn on the cob and fries.


• Rupert, Idaho
25 Mar
Sounds like a good meal to me....I had Ramen lol; didn't feel like cooking