THIS 'N THAT MARCH 2023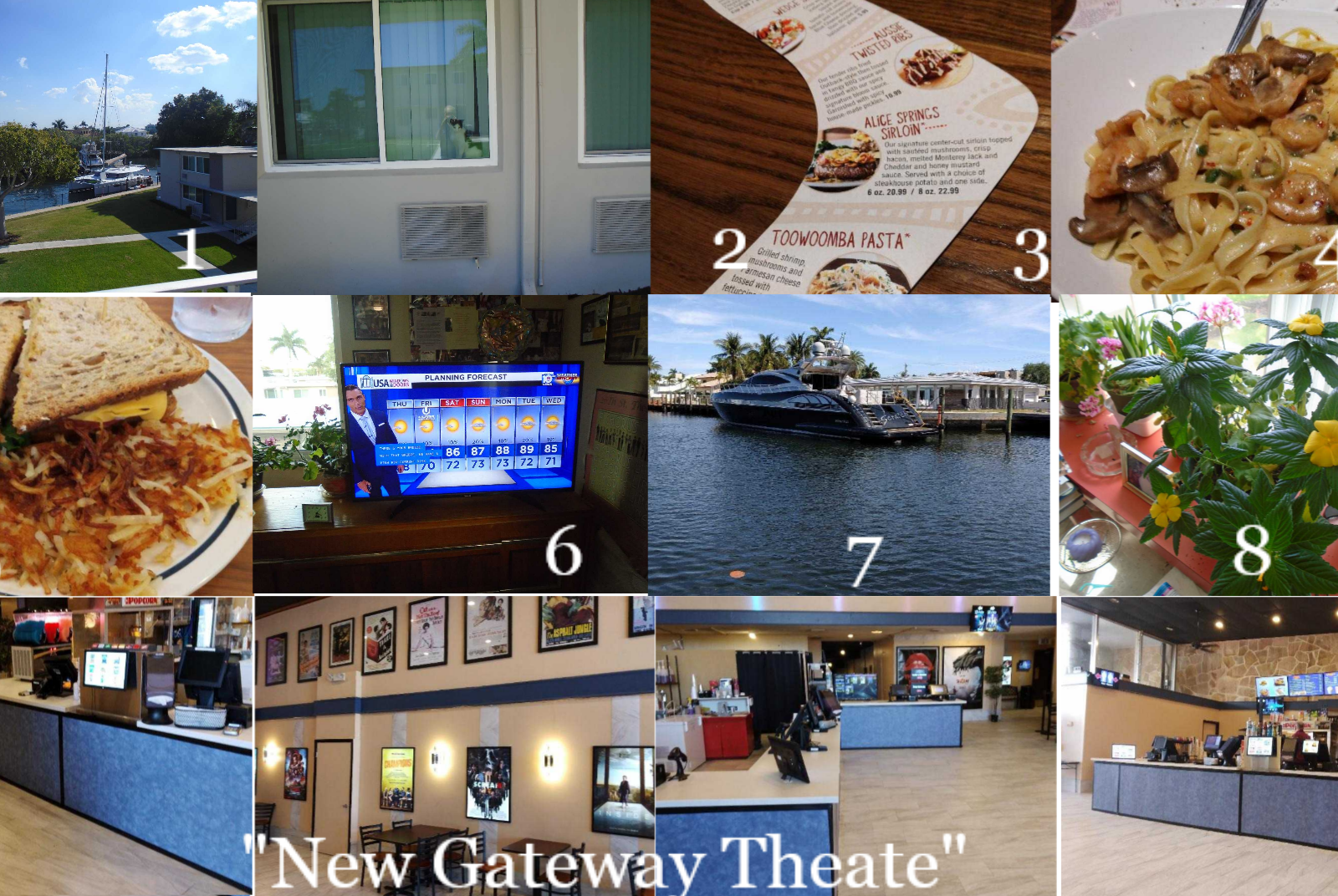 Ft. Lauderdale, Florida
March 29, 2023 5:43pm CST
1) Overlooking the canal from the 3rd floor walkway---6) For 3+ months our weather has been 'sunny and highs in the 80s, feel like in the 90s' occasionally actually hitting 90 or more without rain while the rest of the country has been experiencing rain, snow, floods, tornados and more! Finally, we got some rain today--along with high humidity. On sunny, rainless days we have great places along the canal to just sit 7) and watch people and boats, canoes, yachts come and go. 2) Hey, our neighbor's cats want to watch the boats and people, too! 3) The Outback's Boomerang menu and I had the 4) Toowoomba pasta with Shrimp for $19.99! 5) The next day we went to IHOP where I had the '55+ Senior's lunch Turkey sandwich with hash browns' for $7.89 8) No matter what the weather is outside my 'Cuban' plant keeps blooming all year round. The bottom pictures are of The Gateway theatre lobby which is being 'made over' after 70+ years by the new owners and they will be serving meals plus the usual concession items like popcorn--'old' people are already complaining that the matinee pictures are starting too late in the afternoon and they have removed the comment board! Also, the picture genres are mainstream and not the 'art' pictures this crowd likes! They have put in more comfortable recliner chairs! I hope they make it a success as I really like this theatre and it is very convenient! Sunny weather, serene scenery, plants, food and movies--what else could you want?!
7 responses

• Daytona Beach, Florida
29 Mar
Sounds good to me. We are having sunny warm weather here in Daytona too. I am longing to take the four-pronged cane, my friends, have and get to the beach, I have been cooped up too long. This I will do next week, I see nothing wrong with an old lady walking through the waves holding on to a cane, do you?




• Centralia, Washington
30 Mar
@RasmaSandra
I have walked through snow with a cane. If I were your neighbor I'd be out in the waves with my cane. Have fun out there!

• Ft. Lauderdale, Florida
31 Mar
After seeing old MEN wearing Speedos on the beach no one would even notice a lady walking in the waves with a cane---go for it!



• Wapello, Iowa
30 Mar
What else could I want? Post some pics of the usherettes and I'll tell you.

• Ft. Lauderdale, Florida
31 Mar
OMG!!!! YOU ARE OLD!!!! Movie houses don't have ushers and/or usherettes anymore--they are now food servers!!

• Ft. Lauderdale, Florida
3 Apr
@xander6464
In any case they won't give you what YOU need!!

• Wapello, Iowa
3 Apr


• Gainesville, Florida
30 Mar
Those sunny days can come at a price. I was down in West Palm Beach a couple of weekends ago, and I could see how dry everything was. My son, who lives there, said the area has been in drought conditions for a while.

• Ft. Lauderdale, Florida
31 Mar
And we will get flooded during the rainy season ---NOW! Happens every year!

• Ft. Lauderdale, Florida
1 Apr
@moffittjc
And what are our politicians doing about it??????????????




• Gainesville, Florida
31 Mar
@GreatMartin
Yes, it's the same way up here in north Florida too. As soon as the rainy season starts, we get inundated. You want to know something interesting? A few years ago a study came out about the state of the wetlands in our area, and the study found that over the past few decades the amount of wetlands in our area has been growing! It seems that as sea levels continue to rise, it puts pressure on the underground fresh water aquifers under the state, which then pushes that water upward to the surface!


• Centralia, Washington
30 Mar
You can be a tourist and have a good time. I'm glad for you.

• Cuyahoga Falls, Ohio
29 Mar
That sounds like a good time, weather and all.

• United States
18 Apr
I always enjoy your pictorial updates. Keep 'em up!

• Ft. Lauderdale, Florida
18 Apr
I enjoy making collages!!!!