Never To Return - Poetry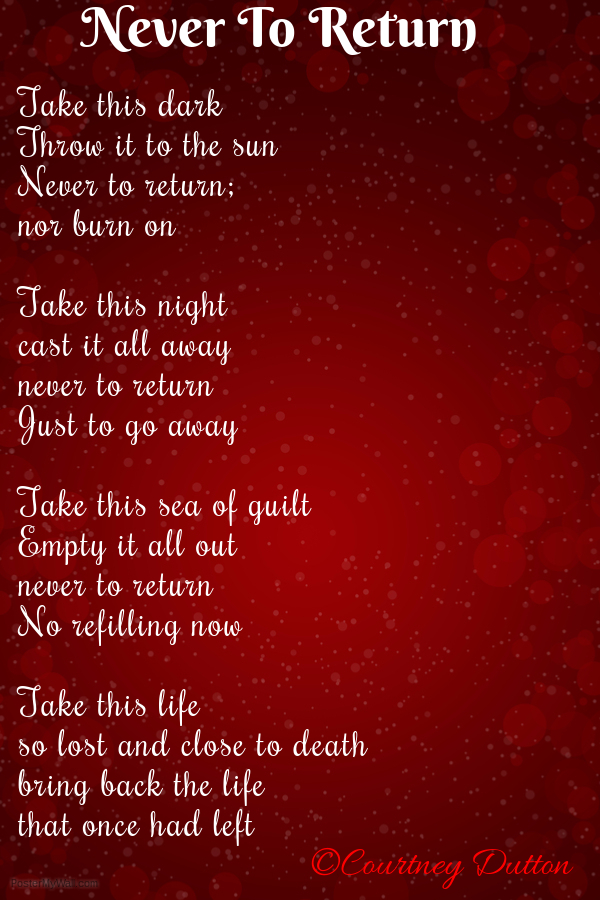 Rupert, Idaho
May 25, 2023 1:28pm CST
Hey everyone, how are you all doing? Here is another poem that I wrote. This one was written many years ago. Definitely over 10 years. I think I included this one in the book of poetry I self published. Yes, as you can see it is another dark poem. Like I mentioned before, I wrote poetry to help me get through the dark times in my life. I know some of you can relate, at least to the feelings... Do you write to help get through things? I would love to know what you all think of the poem as well. Should I keep on sharing these?
5 responses

• Montrose, Scotland
25 May
I think the last 4 lines are very profound

• Rupert, Idaho
25 May
Well maybe I had those kind of moments (profound) in my 20s lol.

• Rupert, Idaho
25 May
@JimBo452020
Well I think I lost the ability to write poetry lol haven't tried in ages though




• Rupert, Idaho
27 May
@RubyHawk
I have, the words just don't flow out of my brain anymore...

• Rupert, Idaho
26 May
Glad you think it is. I don't know if I could write anymore...


• Wheat Ridge, Colorado
26 May
I really love this one too Courtney. xo Yes of course share away.

• Rupert, Idaho
27 May
Glad you like it, and I will share more when I can. I need to find my book so that I can put more on pictures like this.

• Green Bay, Wisconsin
25 May
Absolutely share them. I really like your poem. I really love your last verse. They're all good but that one is the best.


• Green Bay, Wisconsin
26 May
@MommyOfEli2013
There's a lot of telling in those four lines. It tells me you really do care about your life and want to change but you don't know how.

• Rupert, Idaho
27 May
@just4him
Well that was me probably 15 years ago....so not sure if I would write the same things today Although, I would not know how to change that is true.

• Rupert, Idaho
26 May
Well I can share more, at least that I have put on a background like this one. That's interesting that you like the last verse best..good to know!


• United States
26 May
Definitely share more. They're very good. I used to write a diary when I was in my teens. I no longer do.

• Rupert, Idaho
27 May
I can, maybe it will help me to write more if I read through my old poetry again. That's good that you did..I can .understand not doing it now. Journaling can be good though.