What is Digital and Analog .?

Romania
December 18, 2006 6:48am CST
if you have knowledge here please tell me...
3 responses

• India
18 Dec 06
Try this link... http://telecom.hellodirect.com/docs/Tutorials/AnalogVsDigital.1.051501.asp Hope this helps..

• India
18 Dec 06
In analog technology, a wave is recorded or used in its original form. So, for example, in an analog tape recorder, a signal is taken straight from the microphone and laid onto tape. The wave from the microphone is an analog wave, and therefore the wave on the tape is analog as well. That wave on the tape can be read, amplified and sent to a speaker to produce the sound. In digital technology, the analog wave is sampled at some interval, and then turned into numbers that are stored in the digital device. On a CD, the sampling rate is 44,000 samples per second. So on a CD, there are 44,000 numbers stored per second of music. To hear the music, the numbers are turned into a voltage wave that approximates the original wave. Source: http://electronics.howstuffworks.com/question7.htm http://telecom.hellodirect.com/docs/Tutorials/AnalogVsDigital.1.051501.asp http://www.wwsrs.co.uk/format.htm To know more, You can visit the above links.

• India
18 Dec 06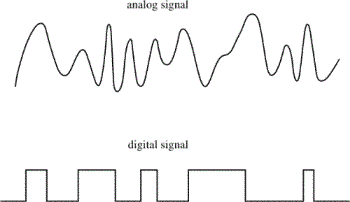 As a technology, analog is the process of taking an audio or video signal (in most cases, the human voice) and translating it into electronic pulses. Digital on the other hand is breaking the signal into a binary format where the audio or video data is represented by a series of "1"s and "0"s. Simple enough when it's the device—analog or digital phone, fax, modem, or likewise—that does all the converting for you. Analog technology has been around for decades. It's not that complicated a concept and it's fairly inexpensive to use. The trouble is, analog signals have size limitations as to how much data they can carry. The newer of the two, digital technology breaks your voice (or television) signal into binary code—a series of 1s and 0s—transfers it to the other end where another device (phone, modem or TV) takes all the numbers and reassembles them into the original signal. The beauty of digital is that it knows what it should be when it reaches the end of the transmission.