Self-striping yarn

United States
December 20, 2006 1:46am CST
I love the effects of self-striping yarn. The idea behind it is you can have a garment that looks like you've used several different yarns, but it's all one long piece of yarn so there are no ends to sew in when you are through. The only downside is self-striping yarn is expensive. It's great for making striped socks. It's not the same as ombre yarn because the colors happen in random order.
7 responses

• Canada
22 Dec 06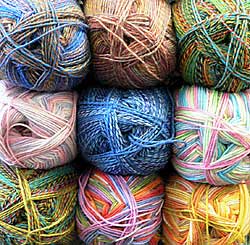 I love self-striping yarn! But can you believe it - I've not actually used it yet! You see, I mostly make socks for my father, and he's really not a wild stripe or pattern type of guy. His favourite type of potato chips is regular, for pete's sake. :) And I've not splurged on some cool self-striping stuff for me yet. Recently my mon bought a few balls of Noro Kureyon for me to make her a pair of felted mitts, so I'm really looking forward to working on this! They are more varigated than self-striping, but the colour way has very long lengths of the same colour so the result is nice wide stripes of the same colour in whatever your making. Yay! ~Wyrdsister

• United States
1 Jan 07
Thanks for posting a photo. That's helpful. You Dad sounds like a vanilla kind of guy. I'm glad you knit for him. There is something special about that.

• United States
26 Dec 06
I have seen this in the store, but I am skeptical of it. How do the stripes work out when we would sometimes be making items of different sizes? I can't see how it wouldn't get thrown off and not actually make stripes sometimes. On the other hand, I hate to change yarn colors and so I almost exclusively make solid color items. I use a little bit of varigated (sp?) to add in some color. Sometimes I'll do that in the border of a solid color aphgan. But I can't stand changing to a bunch of different yarns in a project.

• France
26 Dec 06
Often it wont come out in firm stripes, but you will get a regular pattern of colours regardless. Its part of teh fub to see how it comes out, Socks are a great place to try this yearn out as any pattern looks good there

• France
26 Dec 06
sorry, bad spelling moment there, fun, not fub! is what I meant LOL

• United States
1 Jan 07
I can see how excited you got there for a moment. Are you yearning to knit? Is your Fruedian slip showing? I've made some doozy typos. I sure wish they'd provide an edit button. Or an proofreader to stand behind me.

• United States
20 Dec 06
I've never heard of this type of yarn before. Interesting.


• United States
22 Dec 06
thanks for the look see. Does larger project come out in stripes or more varigated?

• United States
1 Jan 07
It totally varies based on gauge, needle size and how long the colors go for on that particular ball of yarn. I like it because it's unpredictable, but some people may not like it because they never know what they are going to get.


• United States
1 Jan 07
No, I just let kismet take it's course. Whatever happens happens. Try some knitting serendipity.

• United States
27 Dec 06
LOL! I thought this was about self s-t-r-i-p-p-i-n-g as in burlesque, yarn. Took me a second to register stripe in the mix! I love self striping yarn, and have a weird image of yarn a la gypsy....

• United States
7 Oct 11
i love this kind of yarn also i am currently in the process of knitting a sweater using this kind of yarn the colors consist of red burnt orange different shades of green and dark yellow and brown it reminds me of the colors of fall i have been working on it for like two years i like this yarn because it gives whatever you are making colorful i think it is too much of a pain to have to keep switching colors so this kind of yarn comes in handy if you can find a color scheme that you like

• France
23 Dec 06
I sometimes dye wool like this to use in socks. Its quite tricky to do it so it stripes properly, you have to make a very long skein, almost 40 foot for big stripes, and dye sections of it. Usually I make a shorter skein before I dye it and just go for random splodges and speckles of colour rather than solid stripes. Its good fun to knit with