Floating Restaurant?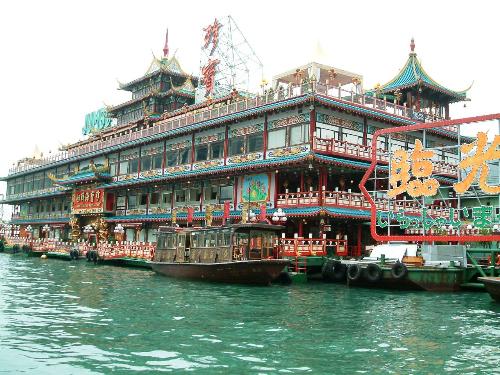 Malaysia
December 21, 2006 12:11pm CST
During my trip to Hong Kong in October, one of the best part of my trip is the sight of the great floating restaurant. It was fun and exciting to take a boat ride out there. Just imagine the fantastic view of such a gorgeous structure floating in the still waters. The day will come when I return to Hong Kong and have a great meal with my wife there........
5 responses

• Philippines
20 May 07
you know there are more to see in Hong Kong, not just the floating restaurant. i would say, you need to have a schedule on where to go so you wont miss out the greatness of HongKong...i have been there and still want to see more of it. GOD BLESS.

• Malaysia
20 May 07
Yes,me too. I do hope to visit Hong Kong again for a second time. This time, I will be more prepared than my first time. My wife loves the Ladies Street because there are so many little things she like.

• Philippines
19 Jan 07
i totally agree with you... but i think you should have tried eating there when you got the chance... it is really one of the must-see, must-go and must-try places in Hong Kong... definitely one-of-a-kind experience wherein you get to taste authentic Chinese food coupled with good scenery

• Malaysia
20 Jan 07
Your response is urging me not to miss the boat, so to say. Yes, I planned to make a trip to Hong Kong for holiday this year. This time, it won't be just a boat ride and viewing the floating restaurant but berthing and having a good meal there.


• Malaysia
29 Dec 06
I am sure you won't want to miss it. Do pay a visit there, get some pics and share them with all of us here. I do hope I will dine there sometime next year.

• Singapore
30 Dec 06
You have to be fast dude!! According to my recent visit in this December, th guide said that government will take over the place, and not allow the visitor to take boat anymore. You can enjoy the boat tour with only HKG$50. It's very cheap. Take a look at these link (taken from my blog): http://bp1.blogger.com/_Dc8tfJMXUlg/RYqK4L_J08I/AAAAAAAAAAM/C6H4lTbenKM/s1600-h/DSCN0516.JPG http://bp0.blogger.com/_Dc8tfJMXUlg/RYqNC7_J09I/AAAAAAAAAAY/cxZ9ijA6AR8/s1600-h/DSCN0536.JPG http://bp3.blogger.com/_Dc8tfJMXUlg/RYqSer_J0_I/AAAAAAAAAA4/_IxlVu_48Hw/s1600-h/DSCN0533.JPG


• Malaysia
3 Jan 07
There are many more awesome sights in HK. I wish I had taken more photos. Nevertheless, on my next trip there, I'll make sure to take plenty. HAPPY NEW YEAR TO YOU AND FAMILY.

• Canada
5 Jun 07
I love to enjoy different resturants. I have never been to Hong Kong but I would love the experience of the country and this lovely resturant. I hope you do get to go back with your Wife! Where else have you traveled?