?????????????????????????????

India
8 responses

• Philippines
9 Jan 07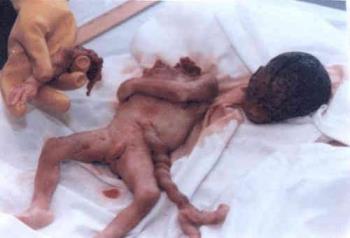 Oh come on be a man! The first child will not feel neglected as long you involve him/her with the new baby. Tell him/her stories that a new baby will be great for the family, he/she will have a playmate inside your house, someone will look up to him/her making him/her feel important. Look at the picture I attached, can you do this to an innocent unborn child?

•
28 Dec 06
Noooooooooooooooo. The first child will not be neglected if you involve him/her in the day to day care of the new baby. Make the other child feel important, in that he/she will be carer of the younger one for a while. Just simple things, like handing the wipes for cleansing, powdering the baby's bottom, helping to put on bootees or socks... little things that mean so much to the firstborn. He/she will learn that he is a part of the family as a whole and will assume a role of responsibility towards the rest of the family. I'm sorry... I don't agree with abortion... you took your chance, and now you have a growing fetus... you have no right to stop it growing. Better to spend your time working out ways to involve the other child and bond the family. It sounds as though you've thoroughly spoiled the first one, which, I am sorry to say, is your own fault, not the fault of your unborn baby, so now, you must take the responsible part and let nature take its course. You're not the only person in the world with more than one child, and they coped! My first son was 20 months old when I had my second, and he held and fed the baby as well as taking part in day to day rituals, and my boys have grown up well-bonded. So, take responsibility for having planted the seed, and nurture the plant!

•
16 Oct 07
Sacraficial... you also have the right to say NO when the man makes advances on you, and you have the right to TAKE PRECAUTIONS not to get pregnant in the first time, and thereby save the right of killing a human being. In other words, I find your attitude quite a selfish one. Besides which, it's not the way this guy's wife is feeling, it's whether their other child would feel neglected. No... the other child wouldn't feel neglected if they were included in the care of the child to be born. Thank you for your observations... you're entitled to your opinion, but it would be rather nice if the guy who started the post had responded and let us know how he felt. Brightest Blessings.

• United States
17 Oct 07
I'm pro-choice and the bottom line is does your wife want another child. If she does, you have no right to pressure her not to have one. If she doesn't then she should terminate. I do want to say that your reasons here seem rather odd. Many children have siblings, they adjust just fine.

• Netherlands
3 Jan 07
C'mon, aren't you a man? you should have known better. abborting for your wife? If you abort for your wife now, and in the futrue your wife misbehave and got pregnent else where, don't you think she can make you see reason to abort the pregnancy so you don't get her caught? Igf you don't want babies now, then go for family planning. But let this one you have stay.

• India
3 Jan 07
This is common feeling of parents but in my opinion nobody will be feel neglected because both are ur own child . because of the same feeling i still not go for second whether my baby is four and half year old .

• India
29 Dec 06
you should have taken ample precautions,since you did not i suggest you now should take the responsibility and bring up the child youll never regret it,in the future be careful use contraceptives or follow the menstrual cycle Abortion could cause you harm and maybe you would never be able to conceive one never knows

• United States
29 Dec 06
why would you feel your 2nd child would be neglected. I'm sure you can find time for both? I don't believe in abortion but to each his own. If you don't feel you would have enough time for the second child, you shouldn't have gotten pregnant, as abortion, in my opinion, is not a good reason to rid yourself of a child because you don't have enough time.