Gift Certificates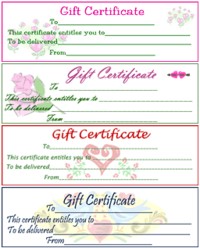 Australia
January 5, 2007 4:05pm CST
Here is a link for a free print out for a Gift Certificates... An unusual, very personal gift... A Promise....A gesture....A gift of your time...Well print it out, a nice way to do something for someone. http://crafterscommunity.com/view/120/Valentine's_Day_Printable_Gift_Certificates
6 responses

• United States
24 Jan 07
These are great. I needed a new site with better certificates than the normal one. Thanks


• Australia
17 Jan 07
and it makes it easier for someone to ask for it to be carried out, they just have to cash it in so to speak......

• Philippines
11 Jan 07
Thanks, this is really a neat idea. It's something different and whatever you write there really comes from the heart.

• Australia
11 Jan 07
I have heard people giving verbal gifts like this, but having it on a gift certificate makes it easier for the person to give back when they want to cash it in so to speak...I think ir is a good pressie to give even if it is mowing a lawn or baby sitting, or anything really....

• United States
7 Jan 07
OMG, I just love it, Thanks Again...SS

• United States
5 Jan 07
I thinkthat is a neat and unique gift to be able to give. Sometimes for many of us money might be tight and goign out to buy an expensive gift isn't always possible. This though allows people to give a very specialized gift, one that might be more valuable since it is giving more of yourself then just something you can buy in a store. The value of something isn't always determined by it's dollar amount but the amount of ourselves we put into it.

• Australia
6 Jan 07
I have heard of people giving this sort of thing verbally but this way it can be popped in a card an is more like a proper gift, hey it can even be a gift to a neighbour to mow their lawn as a small gesture for something thet did for you...