Do you think Hippopotamus is cute?

Malaysia
7 responses


• Malaysia
3 Feb 07
wow..never thought of that before. Now that u've mentioned, yeah, i can actually imagine it too..



• Malaysia
11 Jan 07
I strongly recommend that you watch Madagascar. It's really entertaining and fun to watch. It's not only for kids but i think it's suitable for all level of ages. And of course, you won't miss Gloria the Hippo (Jada Pinkett Smith's voice). She's just soooo cute..!!


• Malaysia
3 Feb 07
I think they are soooo cute too. Whenever i think of hippopotamus, i tend to think of my ex-schoolmate. People liked to call him 'hippo' as his nickname. He never scold us because he liked the name too. Thanks for bringing up this topic cause now i feel like contacting him back again.

• Australia
12 Jan 07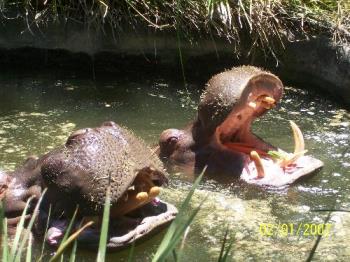 i personally would class a hippo as cute but they are very interesting animals...here is a pic i took of 2 of them getting fed last week at the Adelaide zoo when i went there....very interesting to watch them eating...