you like jet li movies which one is the best movie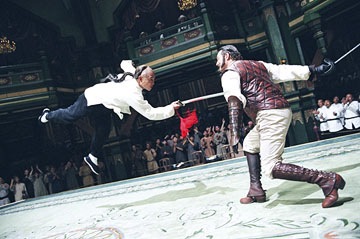 India
January 8, 2007 3:08am CST
Jet Li's Fearless is one of the best movie i like
7 responses

• Philippines
11 Oct 11
The movies of Jet Li that i love most is "Johnny the Dog". it is very much emotional for me and in that movie i feel pity to him because of his role about treating him like a dog. I got cried after i had watched it and so this is the best of all his movie.

• United States
24 Jan 08
I always liked Kiss Of The Dragon for some reason

• Philippines
7 Sep 07
I can name many good movies but for the sake of this discussion, I would pick "The Tai-Chi Master". Great plot with a lot of comedic scenes too. You'll see how Jet can pull of being funny and losing his mind at the same time. He sorta had a breakdown in the film but my God, when he recovers, do all the Tai Chi stuff and regain his composure, you'll see how handsome and dignified he is!!! That's really a very good film. For those of you who haven't seen it, you gotta!

• Philippines
28 Jun 07
I like fearless too. but for me, I like best "the one". he played both the bad & the good there & the fighting scenes between the 2 jet lis were just so awesome! I love all jet li movies! I'm a huge fan. he's actually here now in the philippines & I don't know what to do to be able to see him or even just catch a glimpse of him.

• India
25 May 07
I Like A Lot Of Jet Li's Movies. I Love All His Kung Fu Movies.In Recent Movies I Liked Was Romeo Must Die,The One Etc.