why do most doctors have a bad handwriting?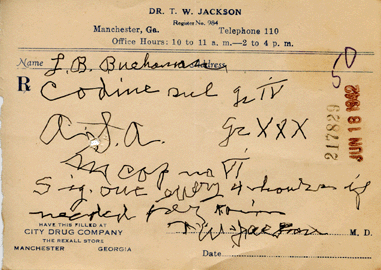 India
January 16, 2007 1:26pm CST
why do most doctors have a bad handwriting? always been curious why do most of the doctors have a bad hand writing?
7 responses

• India
22 Jan 07
because they want that only medical knowledge-able person can read their handwriting not a normal person .



• United States
22 Jan 07
The biggest reason is so that the nurses can't read it. That way, we have to try to interpret the writing. Should something go wrong with the patient, the doctor can simply say, "the nurse's didn't do what I asked them. they didn't read it correctly." Yeah, I'm convinced they take a course in med school called: Deceptive Writing 101.

• United States
22 Jan 07
Lol I agree! Why is that? You'd think in their profession, good handwriting would be a must, especially because they write out prescriptions. You wouldn't want the pharmacist to misread the prescription and give you a medicine that you don't need! I have never understood that, but it seems to be a universal thing. I guess it's just one of those things that goes hand in hand, doctors and bad handwriting. Lol It makes me very nervous, though!

• United States
21 Jan 07
Apparently, people who are very intelligent have bad handwriting. At least that's what I've heard. It appears to be true.

• India
21 Jan 07
Now the doctors are giving prescriptions with legible and good handwriting.