Vista! Is it worth an upgrade?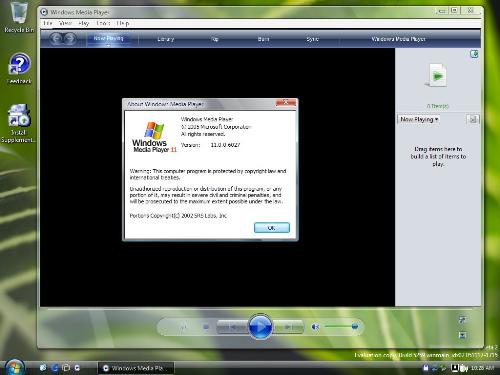 India
10 responses

• United States
19 Jan 07
If you are a PC Enthusiast, (like I am) and as long as you are not a Microsoft Hater, you will most likely get Vista. It's got a lot of cool features. New snazzy 3D interface, enhanced Security, integrated search, SuperFetch for faster program loading of programs you use most, and other Techie stuff. In fact, I'm writing this on a PC that's running Windows Vista RC1 right now, and I do plan to get the retail version when it comes out in a couple of weeks. But the truth is, for most people XP is just plain 'Good Enough'. Sure, there is a lot in Vista that's really nice to have and even helpful, but if you don't have the money right now or feel you may have to do a little too much upgrading and your machine does everything you need it to for the time being, then just wait. On the other hand, if you are upgrading to a new, current PC, then buy all means get Vista.

• India
23 Jan 07
Thanks You, But could you explain what type of security Vista is providing? As you are already a Vista user others might find it useful.

• India
18 Jan 07
I have heard from many vista beta users that its really good and better than windows XP, either in graphics way and other. The other thing that differentiate windows vista from the previous operating systems of microsoft is that this time they have spent a lot of time on security issues before releasing it to public and after then getting criticism about it. They are testing it in various ways on the security front and then going to release it soon, and this could be the main reason why it is getting delayed. They have learnt a lessor or two from their previous experiences with windows 2000 and windows xp.

• India
19 Jan 07
So i hope your priority for an upgrade would be on security. On every release Microsoft claims that their next OS would be highly secure. But we all know the results. Lets hope Vista would be more secure. Thanks for your response.


• India
30 Jan 07
Suyash I think you haven't checked out the latest linux distros. Well all these effects are available in those distros. If you are just interested in those 3D effects in vista then i don't think there is any use investing such a huge amount to buy vista as you can get the same effects in a linux distro with much less system resources and that too for free.

• Romania
18 Jan 07
everybody speaks about vista... for using vista you must invest a lot of money in your pc... you need at least 1gb ram for a decent pc. also, it is said you can have problems with application and games you use now, but i'm not sure...i think you must not hurry in using vista.

• India
19 Jan 07
That was a new information for me. I dint knew that games and application would face problems in vista. Lets wait and see. Thank You.

• United States
18 Jan 07
many people said no in my own discussion you can find my discussion here the link: http://www.mylot.com/w/discussions/602802.aspx and about upgrading i dont think i will upgrade now if i am going to get vista i should have new computer :)

• India
18 Jan 07
If you got a new computer would you mind to buy vista and install it or will you go on using your present OS (should be XP)? What difference do you find in both (I mean vista and windows) apart from graphics if you plan an upgrade? Many people are of the opinion vista is just an hype.

• Philippines
24 Jan 07
My say on Vista: This is a really visually appealing operating system. Lots of nifty features. But as I've read from several other forums, software compatibility is a problem as of the moment. So if I were you, I'd wait a couple of months more and stick with WinXP until Vista is done with the compatibility problems. =)

• India
22 Jan 07
i dont think that i am going to install vista...it is because i heard that vista uses resources much compared to xp.. my system is old and about 4 years now...so installing vista to my system makes it slow...i have vista skin...i installed it now...

• Romania
19 Jan 07
I had windows Vista an from my opinion its not worthed. When i installed it I noticed my internet doesn't work so i had to make some changes. A noter reason would be all the programs don't have soft for Vista. Vista its completly different from xp the interface is different and all the options are hard to find its like their hiden.