Can some body tell me where is the Ghost............????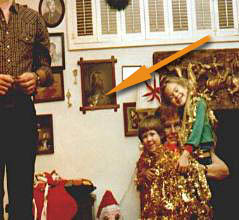 Pakistan
4 responses

• United States
11 Oct 11
I made the photo larger and it looks like a reflection. I have seen ghost photos, that were real, and this does not look like one.

• Pakistan
20 Oct 11
hmmmmmmmmmm! Nice.. can you please show me that picture please so i can see that weather its real or not.. !!!! Thanks in advance .. :)

•
10 Apr 07
I've seen this picture before and there is afigure in the bottom right of the picture. But personaly I think it is just a reflection of someone in the room. I may be wrong, I'm not an exspert or anything.

• Pakistan
13 Apr 07
First of all thanx for your responce and then you are might be right coz may be its the reflection of some one if we observe it closely its seem the room of costume or a ready room so be is the reflection of tht person how take this pic or the other ........ Thnaks agian my frind!

• United States
27 Jan 07
I cant see it well enough to see what the arrow is pointing to. The pictue is too small. I suspect it's talaking about whatever the grey shape is in the right bottom of the window. But that's just a guess.

• Pakistan
16 Feb 07
1st of all thanks for your reponce and yap the pic is too small but you are right coz the story say i like this tht this is the pic of jusess!....!

• Indonesia
27 Jan 07
he? i think its a hoax . .

• Pakistan
16 Feb 07
hi 1st of all thanks for your responce and I think you r right may be....!