dhoom 2 or dhoom 1

India
10 responses


• India
14 Feb 07
dhoom 1 was a lot more better than dhoom 2 !!

• India
10 Feb 07
i love hrithik in dhoom2 and john in dhoom.i also like the theme(i know it is inspired from french film"taxi",later remade in english with same title) also action scenes. but i simply hate the direction...many scenes are taken from hollywood...i heard dhoom3 will be directed by aditya chopra. i belive he can make it good i wish farhan akhtar direct the film,it will be more entertaining i want realistic action scenes(like don) in dhoom3.

• India
10 Feb 07
i liked both but hrithik roshan i liked the best in dhoom2.

• India
7 Feb 07
hey dhoom 1 was good.dhoom 2 was the worst film no good casting except hrithik roshan.not even good acting.even the stunts are so dupe...........

• India
6 Feb 07
Dhoom 2 is very nice movie .......... thankx

• India
5 Feb 07
i like both.. dhoom i is good for the concept and songs and dhoom ii for hrithik roshan and the technology used in that movie is simply awesome and superb

• India
1 Feb 07
Dhoom 1 is the best. but the gadgets and the disguisess that hrithik uses in D2 are amazing

• India
31 Jan 07
i think dhoom 1 was better than dhoom 2 in terms of the storyline. The only thing that stands out in dhoom 2 is Hrithik Roshan. Amazing person ya...loads of talent there!! Love him for that.. but other than him there was nothing worth watching in dhoom 2.

• India
20 Jul 12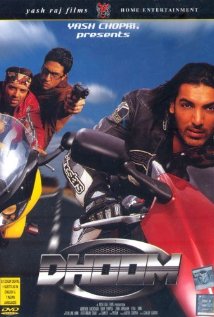 Both Dhoom and Dhoom 2 were quiet boring. The combination of Abhishek Bachchan and Uday Chopra were the worst, both are worst actors present in the industry. I don't know how this movie became a hit and how people liked this movie ...