Decoupage with Stamps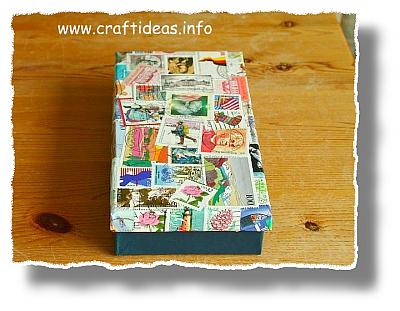 Australia
6 responses

• Australia
4 Mar 08
thats a great idea.i will have to get out all those old stamps and make something.thanks for the idea and the links.i will let you know if i make anything exciting.cheers sue

• Indonesia
4 Mar 08
This site is full of ideas. I like this site. Creative people will very much like too I will show my nephew this site so that he won't get bored at home when have school holiday.

• Australia
4 Mar 08
Yes I think they look good....

• United States
24 Jan 07
This sure is different and thank you for sharing your ideas.

• Australia
24 Jan 07
something to do with all those stamps, maybe break the heart of some collector I guess it you used some rather rare stamps...:)

• United States
24 Nov 08
That is a very cute idea. It is certainly a good reason not to throw out stamps when you get mail. It would make a wonderful gift for just about anyone as well. It is not limited to a certain age or a certain gender, it would be nice for just about anyone.

• United States
23 Nov 08
uch, as a collector, these break my poor stamp obsessed heart! Instead, I suggest using pictures [actual size] of stamps. In the end, if you cut them out carefully then it will look just as good as the real thing. You can use some collectors catalogs such as those from Mystic or Kenmore or from a Post Office.

• United States
1 Mar 08
Hello! I think it`s a great idea :) (and know it`s not a new topic - but I just signed up).. Anyway I`m sure I`ll make it, beacuse I love stamps, too so I have lots of them at home. :) Thanks for sharing!