Picture Frame of Beads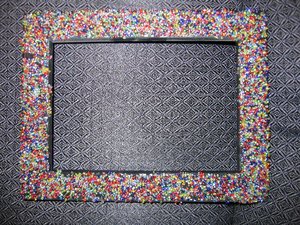 Australia
6 responses

• United States
24 Jan 07
You just find the best web sites for crafts. I love this one too. Thanks

• Australia
24 Jan 07
Some of the beads you can get today, I could go mad....:)

• India
4 Feb 07
thank dear i will make it

• Australia
4 Feb 07
you could make a nice present for someone for Valentines day:)

• United States
27 Jan 07
What a fun and cute way to use up old beads! I will keep this in mind the next time I clean out my bead boxes!

• Australia
27 Jan 07
No I think it would look better if you put all your diamonds on it, next time you clean out your diamond boxes...:)

• United States
24 Jan 07
That looks NICE. Did you just glue them on? How did you get the beads to stick to the frame? Have you tried selling them yet?

• Australia
24 Jan 07
No I didn't make it, I just found it on the net, you would do bst with maybe silicon clear glue just to stick them on....

• United States
24 Jan 07
This is a nice idea for those plain frames, especially the plastic ones. Thank you for sharing.

• India
25 Jun 10
Yes the idea is endless so also the designs, you can find tons of them in internet, the one is good but it didnot open at all.. Thanks for sharing. Welcome always.

Cheers.

Professor