Teething aids??

United States
January 24, 2007 2:56pm CST
I have a 4 m/o who has ben teething for a couple of mos. now. He's exclusively breastfed (no pacifiers or anything) and doesn't like teethers of any sort. We've got some homeopathis teething gel and that soothes him..Does anyone have ideas on what he could chew on to help those teeth break through? When did your kids get their first teeth?
5 responses

• United States
25 Jan 07
Yeh to exclusively breasfeeding and no paceys!!!! Same here! What has worked best for my three where the Hylands tablets (seemed to work better than the gel)A wet washcloth, especially if it was put in the freezer for a little bit to make it cool. Also the HABA wooden toys which are nice and hard are good for chomping. Sometimes mommies finger is good for chomping on too LOL.

• United States
25 Jan 07
Where do you get those wooden toys? I've been looking all over! I think when my gel runs out I'm getting the tabs. How long do they last? The gel wears off in like 15 min.

• United States
25 Jan 07
Thanks, mama! I'll definitely check those out!

• United States
25 Jan 07
I was just doing some searching and found wooden teethers much cheaper at www.oompa.com, you might also try Nova Naturals, Rosie Hippos or Magic Cabin. They all carry more natural (non plastic) toys...

• United States
25 Jan 07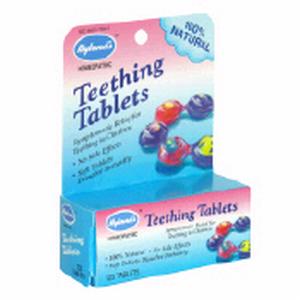 I have an 8 month old and he has two teeth. He got them when he was 6 months old. He won't take pacifiers either. I give him those teething tablets and they seem to work well. I had used the baby orajel but he would throw up everytime I used it so I had to quit using that. A cold, damp washcloth helps and also my son chews on those squeeze bathtub toys (I don't really know how else to explain it). I'm adding a picture of some teething tablets we use with him. We got them at walgreens.

• United States
25 Jan 07
THanks...I've got the gel from that brand, I'm going to try the tablets. I didn't know walgreen's sold them. I'll have to go there. I bet it's cheaper than the health food store! How did you get that picture to put in the message? I know how to upload, but where did you get the image?

• United States
30 Jan 07
I just did a search for it. I wanted to show you the ones I was talking about.

• United States
27 Jan 07
I put icecubes in a washcloth and then tied the end of it with a rubber band and let them gum on the washcloth & their wasn't direct contact to the icecub so it wouldn't freeze or hurt the gums. This usually helped. Also, you could get water on four corners of a washcloth and then freeze it and take them out when your child needs something to chew on. Another thing I listed in another post is these things called --Munchkins found at Wal-mart. Anyways, you can put all sorts of food in them and it's in a mesh type small bag so your child won't choke.. but you can put frozen fruit in there and your child can gum on it to help ease the pain. If it's really bad-- ask your Dr. if you can give some tylenol to help ease the pain like if it's interfering with your child's sleep. good luck!

• United States
27 Jan 07
Ooh, I've been looking for those Munchkins. I guess I didn't think to look at walmart (go figure, the place that has everything). Thanks!


• United States
25 Jan 07
I guess I got teeth at 4 months, too..must be a family thing.

• United States
24 Jan 07
My babies got teeth closer to 8 months, but each kid is different. What worked the best with my son (and still does) put a damp cloth in the freezer, after it is cold, put it in a plastic bag and let him "chew" on that. Also, a child's toothbrush might help. I have also used raw vegtables that are cold-carrot, celery-just make sure they are not a choking hazard for him. Good luck!!

• United States
24 Jan 07
Is it safe for him to chew on the plastic bag? I tried a carrot a month or so ago and he wasn't thrilled, but he's much more interested in food now. I'll have to give it another shot. Thanks :)