Lost the bond with my son

January 26, 2007 6:52pm CST
I have 3 sons 7,4 and 2 years old. The two eldest are from a previous relationship although my 4 year old had no idea my husband is not his real father. He was 1 when we met and my hubby took him on as his own. I had a strong bond with my son at the time but he became closer and closer to my husband. Now don't get me wrong i am happy that they are so close but unfortunately my son has little to do with me. Given the choice he picks daddy all the time and he even says he doesn't love me, i know i shouldn't take it to heart but i do feel as if there is little left between us. If i tell him off from being naughty he stares through me and i find this hurtful. I just can't seem to get close to him anymore.
10 responses

• United States
27 Jan 07
aww, I am sorry you feel this way. My youngest is this way with me but its not because they dont love you.. he does. try spending time with him with just you and him sometimes. like if u run to the store take him.. have mommy days with each of them to make them feel special.. even if its going for a walk or to a zoo or something.. when I was little I LOVED being around my dad, but it didnt mean I didnt love my mom. but I know parents, especially mothers, can really take these things to heart but your son does love you.

• United States
27 Jan 07
Four year olds are a cantankerous lot aren't they? Is there something that your son enjoys that the two of you could do together, preferably away from your house? The alone time together could help you to regain that bond. And if he's a cold fish about it at first, stick to it for at least a couple of months to give him time to warm up to the situation. He may even give you hints about why he's been giving you the cold shoulder when he's alone with you and has time to talk in a situation where he feels comfortable (for many young boys, this seems to be while riding in a car where they don't have to look directly at you!).

• United States
27 Jan 07
I am very sorry to hear this, but I can relate about 3 months ago my and I were out shopping she is 7yrs old and we were doing the I love you more then you love me thing when she said "I know I love you more then you love me mom because I ALMOST love you as much as I love daddy" well let me tell you my heart dropped to my stomach and I wanted to cry though she has always been "Daddy's Little Girl" it broke my heart to hear it but I waited until I was not so emotional about it and we went for a drive and were talking and I told her that it hurt my feelings when she told me that but that I understood she then informed me she was sorry and really loved me more so explained to her that she has a big heart and can love both of us the same. It bothered her to know she hurt my feelings now she is more careful in what she says. I am more of the disapliner then her father she for now it is him but in about 7 years it will be all about me cause dad will not allow her as much freedom as she will like... So my advice is to tell your son spend more time one on one with him and WAIT your turn...Good Luck

•
28 Jan 07
Awww i can imagine how you felt! But you did a really great thing explaining to her that it hurt you and that she can love you both the same. Its silly really how we feel about our little ones, we know they need us just as much as we need them but they take us for granted don't they!

• Philippines
27 Jan 07
I don't let my kids say that to me...I spank them when they are naughty but I also do talk to them..You should have a heart to heart talk with your son..tell himhow much you love him and how much it hurts you when he's being bad..Iusually bring my kids treats whenever I can...I bring them places as well.. maybe you just need time to spend with him...let him see you are interested in him as well..anyways, you got 3 sons...treat them equally and fairly..

•
28 Jan 07
I do treat my little monsters all equally, and you must agree with me that its amazing how a mothers love can be divided between her children! I love them all exactly the same, and love them all for their faults and achievements. As most people have suggested that i need to spend some 1 to 1 time with my little fella, and i am going to do that. Wish me luck!!

• Canada
28 Jan 07
Yes, you just need to find something to do with him that you will both enjoy. The time you spend together will help to re-build that bond. I wouldn't worry about it much if I were you, I think little children tend to do this but it will change in time and you will be as close as you once were.

• United States
28 Jan 07
I could say don't worry about it, but it does feel like abandonment doesn't it? First, from expierence, I think the young kids are drawn to thier Dads, especially if they are with Mom all day, Dad is fun. Second, there is a bond between males. He will grow up to be a Dad, not a Mom, so he relates to him differently. Wants to be like Dad, do the things Dad does. Kids say I don't love you frequently. They are just little pints, and do not know how to say I am mad at you right now. With limited vocabulary, and onlyjust beginning to understand his own emotions, he is not sincere in his words. Stick with it, the relationship will improve (in 10 years or so, lol) and be thankful that you have such a wonderful husband and father to your children.

• India
28 Jan 07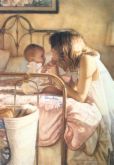 Please make some dishes what he likes and take him around whatever the places he really loves to go. Take the objectives or tasks what will be his needs if you identify them and complete his needs surely he will come closer to you.And you will also be happy and same to your husband also you can life a Happy Life everyday

• Canada
27 Jan 07
The thing is when you're 4 you dont think about these things and how they affect other people, when i was little i did the same i preferred my dad more just because the fact that we did more stuff together. Kind of reminds me of the show "Malcolm in the Middle"...where lois does all the hard work but the kids like hal better


• Australia
27 Jan 07
I think that the best thing that you can do in this situation is to take him out and spend more time with him by yourself if you can for awhile maybe this will give him back the love that you two had it must be very painful to you when he is turning more to your husband I hope this helps.