Who all Use Apple Ipod...?

India
7 responses


• Romania
5 Feb 07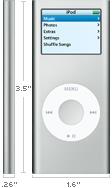 i have an ipod nano 4 gb. it was given to me for christmas... it was a wonderful present! i love it... now when i go from home i always remember to take my ipod and sometimes i forget to take my mobile:)) i never listened podcasts... i can't find nothing free! do you buy podcasts?

• Australia
30 Jan 07
I use a 4gig ipod Nano, and I LOVE it. Before that I had a 1st gen ipod mini, and the battery life wasn't so great, particularly right at the end of it's life (a year after I brought it). The ipod Nano was a present, and it's fantastic. It's so tiny, the sound quality is good, and the battery life is wonderful (about 14-18 hours).

• India
4 Mar 07
I have a 80GB iPod Video and i love it and cant live without ipod

• India
22 Feb 07
i have bought a brand new white i-pod this month.oh god it is whiter than i thought!i have 15GB version!but as they say aa rolls royce is rolls royce!when i carry it with me to my college,my ipod made more news than any hot girls !even some of my professors put my ear phone to their ear!honestly i am flattered! this one was the most amazing thing i seen in recent days.

• United States
2 Feb 07
I love my ipod. I am addicted to podcasts, update them everyday.