What's your cats favorite hiding spot??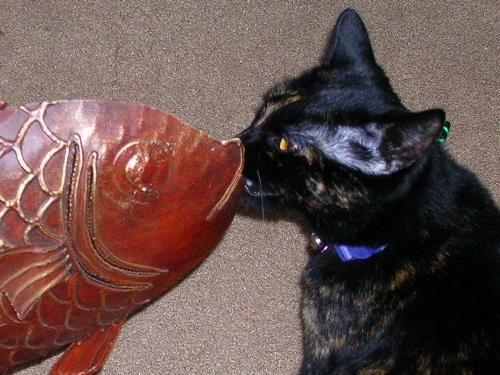 United States
9 responses

• United States
1 Feb 07
Actually, my cats sit in the same places all of the time. For example, my Waffles prefers to lay on the radiator in the sunporch, while Columbus likes to sleep on a kitchen chair. However, when I bought Waffles home, she ran into my bedroom and hid in the closet for nearly two whole days! She is still a little skittish, but much more relaxed than she was last October.

• United States
1 Feb 07
my cat loves the laundry basket in the closet, I ended up getting him his own basket with a big blanket in it because I hated all the cat hair on the clothes! I think he spends at least 8 hours a day there.

• Philippines
1 Feb 07
my cat likes to hide under my bed...

• India
1 Feb 07
My cat is hiding above of my kitchen stone, near gas stove, becaus it needs heat.

• United States
2 Feb 07
Hi there...both my cats love to thinking they are hiding away from me in their crinkly fish toy--fish swallows kitties! LOL

• United States
2 Feb 07
Rain usually doesn't like to hide, she wants to be in the middle of things wherever we are. Last night, she wasn't in her usual spot on the kitchen table when my husband and I were getting ready for bed, so I asked him where the Rainy-cat was and she meowed from my computer desk. It sounded like..."i'm here, I'm here, I'm here..." When she is ready to play pounce and seek, her favorite spot to hide is between the shower liner and the shower curtain on the edge of the bathtub.


• United States
1 Feb 07
Riley likes to hide in the trash can. Not the best hiding spot, if you ask me.

• United States
1 Feb 07
My cat likes to sleep on top of the fridge under the cabinet above the fridge. When my dogs are inside that is usually where he is.