What's your favorite fast and healthy dinner?

United States
February 6, 2007 7:52pm CST
I love making dinner within 30 minutes or less. I try to keep everything healthy and keep the food groups balanced. My favorite dinner which is also the healthiest that I make is baked salmon with either brocolli or spinach and rice (jasmine or brown). I take the salmon and wrap it in tin foil with some type of seasoning, and stick it into the oven for 20 min at 400F. Meanwhile, I steam some brocolli and cook the rice. Its super easy and yummy!
4 responses

• United States
7 Feb 07
Stir Fry with Brown rice I like this because there is a lot of flexibility and I can usually use what I have on hand. I use some sort of protein, maybe chicken, shrimp or tofu, and what ever veggies (fresh, frozen or canned) that I have on hand. Some of my favorites are mushrooms, broccoli, water chestnuts, and celery. To season I use garlic, soy sauce, sesame oil, hot pepper flakes and sometimes peanut butter. This may sound odd but it makes a really tastey peanut sauce like you would get at a resturant. I use low carb peanut butter so I have more of an idea of what I am eating, since I am trying to be more mindful. For the brown rice, you cook it just like you would white rice. You can also buy instant brown rice if you are really in a hurry. Using chicken broth instead of water to make the rice also makes it extra tastey.

• Portugal
9 Feb 07
Hey, thanks for the wonderful recipe. It looks really tempting and makes me want to cook it one of these days...as a matter of fact, I'll go and add it to my "to cook" list, cheers for sharing!

•
7 Feb 07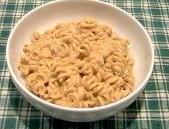 If I want a quick dinner I usually make pasta and salad. In the 10 minutes it takes for the pasta to cook I can usually make a really nice salad. Here is the recipe if you are interested. http://www.recipesforvegans.co.uk/easypasta.html

• United States
7 Feb 07
Not only am I a terrible cook, I'm also not a very good nutritionist. Nevertheless, I've found that grilling a couple of Boca burgers and serving them on potato buns is a filling and healthy meal. Follow it up with berries and whipped cream, which is healthy and something I actually like.

• Canada
7 Feb 07
That sounds delicious ma_belle! When I want a fast dinner, it's usually baked herbed chicken with either seasoned rice or pasta...