My cat seems lonley... do you think cats need partners??

United States
7 responses

• United States
8 Feb 07
They always say never to adopt cats alone. Some people just can't handle more than one cat, though. And some cats don't get along well with each other. I know my cat is well occupied and gets plenty of attention just from my family.

• United States
8 Feb 07
Absolutetly cats get lonely. Cats are very affectionate people and when their humans are not around they get lonely. I used to have just one cat many years ago and i always felt bad for her when i would go out of town. She would be so upset when I got back that she would snub me. She would ignore me by hiding in the closet. She passed at an early age. When i decided to get new cats, I adopted two. They are brothers from the same litter so I had no problems with territory conflicts as they already knew each other. I think this is the best thing I could have done. They keep each other company even when I am home. They curl up together, bathe each other and play. It's the best thing I could have done for my cats.

• United States
8 Feb 07
My cat is especially clingy. Every other week I let her go to my moms house for a play date with her cat, they've known eachother for a very long time. Shes always much happier when she comes home after playing.

•
9 Feb 07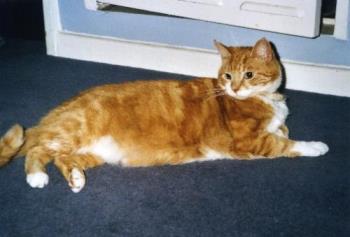 I have 5 cats, and they are all really good friends. I think cats are like people - some like to be on their own, but others like company. I think it's OK to have a lone cat if you are at home all day, but if you are out at work, then the cat will get sad, and lonely, and it is good for them to have some companions to play with.

• United States
9 Feb 07
well growing up we usually only had one cat at a time.. but ive also found that when our cats got used to having another cat around and then all of the sudden they were 'alone' again they were acting a little bit depressed.. 2 years ago we only had 3 cats but decided to get a 4th... the two older cats are great together but the younger one would terrorize the oldest. once we got him another younger kitty to play with he started leaving poor tiger alone :)

• United States
9 Feb 07
Yes, I think cats get lonely. They really like having another cat to play with. I have four cats right now and three of them get along with each other and love to play together. Unfortunately, I have one cat who would be happier if she were an only cat. But we love our cat family and wouldn't give up any of them. Two of our cats are littermate brothers. They are the cats in my picture.


• Canada
8 Feb 07
Well, I used to have 6 cats in the house I live in. They got along fairly well, except for one, a stray cat. But the 5 generally got along well. I know my two cats Minou and Nikita (Brother and sister) sometimes sleep in the same bed all curled up, which looks cute but kinda odd how, Minou, being a big cat, fits in the cat bed with Nikita, a really skinny and small cat...Or no, maybe because Nikita is so small, minou can fit. Ah! Whatever. It looks pretty cute, though.