What is the VALENTINE'S DAY? Why it was so CRAZY to the YOUTH?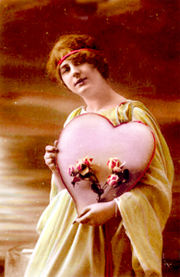 India
February 9, 2007 9:02am CST
Valentine symbols include the heart-shaped outline and the figure of the winged Cupid is made in different unorthodox designs. And people are wearing it over the body without meaning and making a mess out of minds in youth. What is the purpose of celebrating the day? How far it is justifiable?
3 responses

• India
9 Feb 07
nothing spl . valentines day has no importance.. love can be expressed in any day... valentines day has no true history... y do u need a specific day for love... love is forever isnt it

• United States
9 Feb 07
I used to love Valentines Day when I was younger because we would always have to fill out and choose those little Valentine cards. Two boy had a crush on me and one of them would buy me a heart shaped box of chocolates every year. I didn't like the boy back the way he likde me, but hes still bought me something every year. Now that I am older and married, we do not celebrate Valentines Day that way. We just give each other love and that seems to work great.

•
9 Feb 07
ppl do need valentines day because its a day u can ask the person u love things with a huge weight on love that is more easy to ask on this speicial day and its a magic day for lovers and u give love card to alot of ppl that is realy mean someting to them.