Would you pose with a real baby tiger?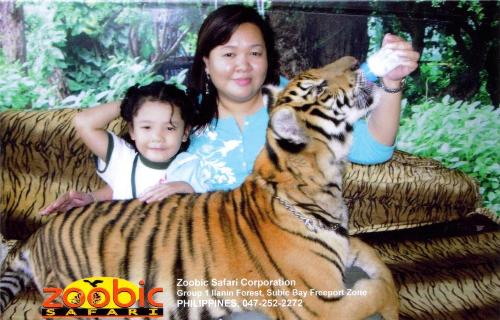 United States
February 20, 2007 8:21pm CST
I forced my daughter to pose with me. I was a little scared. But as you can see here, my daughter is a bit worried. I'm glad she posed though, at first she really didn't want to. This is a funny picture because my daughter Nadine looks so different when she's not worried. LOL
5 responses

• United States
21 Feb 07
Oh wow! I would love to have a picture taken with a real baby tiger. I love big cats though. But I can understand your worries though they can be evil critters when they want to be. Where was that picture taken?

• United States
21 Feb 07
After posting that, I came to think if it's really a baby tiger still because we some really smaller ones. This one had to have a full bottle of milk to keep it busy, I'm sure it's not that tame. We had this picture taken at the Zoobic Safari in Clark, Pampanga Philippines.

• United States
21 Feb 07
Thought I'd share this other tiger picture I have.

• United States
21 Feb 07
Wish I had the money to take a trip there, would love to be that close to a tiger. The closest I have been to a tiger here in the states is at the zoo and there was bars between me and the tiger. They are such beautiful creatures. I do understand about the bottle, baby to adolescent tigers are real hard to get to sit still since they like to play like any kid likes to do basically.

• Philippines
21 Feb 07
Oh yes, I would. The picture would definitely look cute. Though if she's scared, I'd still try to talk her into having her picture taken, but if she looks really scared or if she starts crying, I won't force her. But if she would feel at ease that I'm with her, I would definitely go, to make that worried look disappear.


• New York, New York
22 Feb 07
I give you a lot of credit, I could have never done that and that is one big tiger baby.

• United States
21 Feb 07
As long as handlers are near by then it would not be a problem for me. Would not force my kid to do anything. Baby animals are less of a risk, however, one still exists. Glad it turned out for you, it is not common in my country.