Do you usually cross your legs while sitting???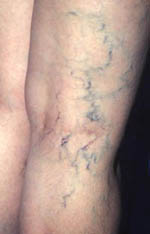 Philippines
March 2, 2007 11:32am CST
Women has a great tendency of crossing their legs while sitting...and am one of them...i just feel more comfortable sitting when I get to cross my legs...i don't know exactly why...but am minimizing it after I learned that crossing your legs while sitting for quite a long time can cause varicose or spider veins... that's horrible coz aside from having unpleasing legs, varicose veins could also result to some serious health problems like the following: 1. Venous stasis ulcers --- ulcers (open sores) that result when the enlarged vein does not provide enough drainage of fluid from the skin. 2. Fungal and bacterial infections - may occur as the result of skin problems caused by fluid buildup (edema) in the leg. These infections also increase the risk of tissue infections (cellulitis). 3. Phlebitis- an inflammation of the vein 4. Thrombosis - blood clots that form in the dilated vein... Now, should you still go on crossing your legs for a long time while sitting? Yeah, this is not the only reason for getting varicose veins, but it's one of them..so why should we take the risk... hope this helps...:)
9 responses


• Philippines
8 Mar 07
No problem, liranlgo...am glad I helped somehow... Godbless!!!

• United States
13 Mar 07
I don't just cross my legs, I actually like to sit with my legs tucked underneath me. So far I have been very lucky....4 children and no varicose veins. I think that they are hereditary, so I guess I was blessed with good genetics. I have heard that crossing your legs is especially risky during pregnancy, but I never paid any attention to it. I like to be comfortable!

• United States
3 Mar 07
I do it too much, and in addition to being bad for circulation it is hard on your hips. It is a good thing to get up, walk around, and stretch your legs. Try to sit straight, with feet on the floor. Good reminder.

• Australia
2 Mar 07
Yes we do have a real tendancy to cross our legs while sitting but my eldest daughter told me not to do this as it was extremely bad for oour circulation and so while I am sitting at my computer I do not ever cross my legs, and most of the time if I accidentally cross my legs I correct that mistake as soon as possible.

• United States
2 Mar 07
I try not to do so. As a kid my mother tried to teach me to be "ladylike and only cross my legs at the ankles. It is hard to cross legs in some of the office type chairs.


• India
17 Mar 07
Yeah ur right womens have some type of tendency but they should not be like that .u can sit like that u will be comfortable when ur sitting

• United States
15 Mar 07
Excellent post 'rexy'...so very true. It is such a hard habit to break. I used to cross mine constantly, but I am working hard to remember not to sit with my legs crossed. As you point out, it can lead to some very serious problems. We advise all of our patients in the hospital not to lay with their legs crossed either!

• United States
15 Mar 07
I have to admit that when I am at home, I don't do it. Whenever I am out in public, I will becaUse I think that it looks a little more feminine. After reading what you found on the effects of crossing your legs, that makes me not want to ever do it. I think that those are some very good things too remember.