Do you find golliwog and mammy dolls offensive?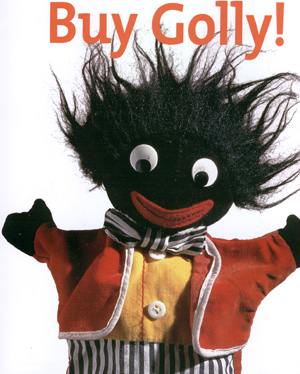 Portugal
March 9, 2007 11:49pm CST
Golliwog dolls especially, were very popular in certain European countries. If you take away their racist stereotype undertones and origin, you basically get two loveable characters that are very interesting, visually. I especially like the golliwogs, with wide eyes and bright colors. I don't know if I think of it this way because the history of slavery in my country is different from the american experience, but judging by the fact that some countries are erasing the appearance of golliwogs from books and illustrations, it would seem that these caracters are considered offensive to many. Did you know that the original Noddy stories featured golliwogs? Now they no longer do, as they are not politically correct, so they've been replaced. Is it OK to censor the past? What's next, book burning again? What do you think about this? Read an interesting article about the golliwog: http://www.ferris.edu/jimcrow/golliwog/
7 responses

• United States
11 Mar 07
Yes, I find them offensive. However, must we erase every bit of Americana that has shaped our history? I believe we should leave these examples of wrong-doing and stereotyping alone - we learn from the past. To make new ones or encourage them would not be acceptable to me. I rode the freedom buses and was bitten by a police dog in Selma that forever scars my eyebrow. I did that with love of my fellow man to erase things just like this.

• United States
11 Mar 07
I can see where people might think those dolls would be considered racist. It does look cute though but maybe in another time and place even cuter. Kind of like how you rarely see anyhting with Aunt Jamima the pankace syrup lady. When she first came out it was cute no I think she is basically gone because people were scared she might be considered a sterotype.

• Ireland
10 Mar 07
No I don't find them offensive. I still have my golliwog since I was a child and I wouldn't part with it. My daughter wanted one and found it almost impossible to get one. She saw one on an auction site and placed a bid but the final price was astronomical so needless to say she didn't win it. I think they are collectors items now. I always liked to read Noddy and Big Ears stories but it so long ago that I can't remember any golliwogs being in them. I will check out your link as soon as I catch up on all my responses. Thanks for sharing it.

•
10 Mar 07
I had a Golliwog when i was a little girl adored him and i can see nothing racist in him he was my friend took him everywhere slept with me at night. I actually feel censoring makes things worse and how can a child be racist is she loves the toy in some countries the bible is burnt and for what! Why is a black doll or toy considered racist i don't find white dolls racist. Politically being correct drives me crazy it has made people less correct don't bury the past it is our history lets remember our mistakes and dreadful things did happen but banning and censoring it won't erase it.

• Portugal
10 Mar 07
Well, the image of these characters was meant to be racist/demeaning, that was how black people were presented to the public (the minstrel costume of the gollywog is another hint). So their origin is racist, but at the same time, I think they're adorable figures. It's always a bit dangerous when they start rewriting the past. At the same time, I suppose a lot of people aren't ready to move on yet...

• United States
13 Mar 07
I think by making these dolls into collectors items one is trivializing slavery and segregation whether they mean to or not. If someone has the big picture then they might think twice before buying such an item. I'm not into all of that PC BS happening in the US but I do think this is a personal limit for me as I can't find one reason to justify these dolls' presence. I say keep one in a black history/awareness museum and trash the rest.

• Portugal
15 Mar 07
Let's entertain this thought here: how and who gets to decide which dolls are trashed and which is kept? ;P I'm not for trashing anything. Sorry for saying this, but that's such an ignorant way of thinking. When the sSoviet Union collapsed, they were tearing down the past. When the taliban gained rule of Afghanistan, they destroyed priceless monuments for the simple fact that they were religious and offensive to them. I'm completely against that, simply because it's a radical and fanatical way of looking at history. And it's not these dolls that keep racism alive in the US, that's for sure.

• Australia
11 Mar 07
Things like this depend on how the person seeing them perceives them, plain and simple. If I pointed at one of these and said "That's funny because that looks like an -insert your choice of nasty mean words-" Yes, I'm being racist. But if a child has a toy and loves it because they like the way the toy looks or feels or the security it brings them is that still racist? I don't consider them to be racist anymore. Most of these are things of the past and collectors items now. I can guarantee 99% of people who are interested in obtaining one of these dolls aren't after them because they make fun of other races. They want them for historical value. And that's what they are. History.