Cooking with Tempeh?

United States
March 23, 2007 6:07pm CST
I have tried a few times to cook with tempeh, and it never comes out quite a texture I like. Maybe I just need to keep eating it until I get used to it, as happened with tofu. Still, if anyone has some great recipes to share that would be appreciated!
5 responses

• Malaysia
24 Mar 07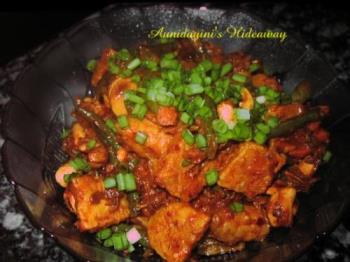 i like tempe very much - the fermented soybean. I have one recipe here,..you can try it,..you might like it. Sambal Tempe Ingredients: 10 packets Tempe- cut into small pieces, deep fried 1 bunch long beans - cut to 2 cm slices 5 sweet potatoes- diced, deep fried 4 large cans baby clam ( red and white can) 1 handful cashew nuts- roasted A- blended together 2 cups dried chili paste 1 handful shallots 1/2 handful garlic 1/4 cup chopped ginger B- others tamarind juice salt chicken stock powder 1 tbsp Maggie Belacan powder (dried shrimp paste) sugar ( optional) fried shallots 1 can coconut milk steps: 1. heat oil in wok 2. add in A- the blended chili, fry till fragrant 3. add in the long beans, fry till half cooked. 4. add in B- simmer 5. add in tempe, sweet potato and clam, stir well. 6. adjust seasoning and dish up. 7. to serve: sprinkle with sliced spring onions and more fried shallots



• Malaysia
27 Mar 07
hey, lemak is a name for our dish cooked with a coconut milk and lontong is hot soft rice pressed in the plat plate and cut into cube shape. I have a recipe here for tempe and egg in coconut milk. Tempe and eggs in coconut milk ( Gulai telur dengan tempe) 2 cups coconut milk ½ turmeric leaf, shredded (optional) 8 hard boiled eggs, peeled 2 cakes fermented soybean cake (tempe), cut into medium cube shape 1 tablespoon tamarind juice Salt to taste Fried shallots to garnish 5 shallots, peeled and sliced 3 cloves garlic 4 birds eye chilies, chopped 2,5 cm (1in) ginger, peeled and chopped 1 cm (½ in) fresh turmeric, peeled and sliced 2.5 cm (1 in) galangal peeled and chopped preparation Grind or blend the spice paste ingredients until coarse. Bring coconut milk gradually to the boil and add the spice paste, turmeric leaves and eggs. Simmer until the sauce thickens for another minute. Serve garnished with fried shallots

• Indonesia
28 Mar 08
I have special recipe from my mom and its simple for make fried tempe. You need about 5 block of tempe if you want to eat it with 3 person. Depend on hoe big the tempe is. Cut tempe into wide and thin just like in the picture. thin cut helps the crips of the result. ingredient : 3 garlic, 3 spoon of coriander, 3 fried candlenut, salt, sugar.1 small chili (if you want to) and grind all until it's mix add rice flour, terigu flour i egg and water. add some lemon leave slice, add tempe and fried the tempe with hot oil. serve

• United States
24 Mar 07
Hey, I love soy and tofu, but I never made my own tofu, I love to learn it, but I making my own soy milk, and I have one dish, that soy nuts (chopped) I used make the soy milk, I usuly put in the pan little olive oil and green onion and a chopped soy nuts to saute (2 min) and when is hot put one egg over and a littlebet of soy sauce, excelent dish! You don't need any bread with that to eat. Try it! I will ask my chinese girlfriend about tempeh and I let you know what she say, she know everything. See ya, thanks+