What Is 1 Human Value You Think People Need To Practice More?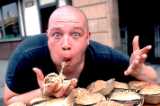 Canada
March 27, 2007 5:27pm CST
Easy enough question for you guys. Im just wondering what human value do you think people have lost in the years or should practice more? For me its manners like holding the door open for women and disabled or saying thank you becasue I sure don't hear that much anymore!
6 responses

• United States
19 May 07
Compassion, generousity, and respect. The world would be a nice place if more people practiced those things.

• United States
10 Apr 07
According to me its the humanity itself that has been vanishing from this world at its fastest mode.....So I feel people should have some luv, care and not be selfish so as to help others in their hard times. Helping people does bless us in some or other way, I truely believe in it and make syre to provide any kind of help and care to others around as much as I can.....Cheers!!!!!

• United States
10 Apr 07

For me, I would have to say the 1 value people need to practice more is acceptance of others. Accepting that others have different beliefs, values, and morals. Accepting that it is okay to be different and not presecute them just for their belief system.

• United States
30 Mar 07
i think you have a good point there and I am going to add patience too. I think alot of people, myself included, have lost patience over the years, you here it with customer service and with road rage are just a couple of examples. i think with all this technology it has made people want things when they want them and there is no patience anymore.

• Canada
27 Mar 07
For me itscompassion or empathy, since both are close to the same thing. People just don't care any more when someone is in need of help, or even just a little encouragement, In fact, people are more concerned about their stupid dog or cat than their neighbour.