Bubble tea

United States
March 28, 2007 6:30am CST
Have you ever drank bubble tea? What is your favorite flavor? For those of you unfamiliar with bubble tea, it is a tea/juice/milk concoction that is served in a clear glass with huge tapioca balls in it. You suck up the tapioca 'bubbles' through a super-wide staw. I used to get it at a little Asian-fusion place, but there are lots of places that serve it. It's hugely popular in the Asian community. My favorite flavors are coconut and blueberry.
5 responses

• Singapore
29 Mar 07
Yes, I have and I love it. It originates from Taiwan and has been in my country for years. Mt favourite is the honey green tea with pearls. The slightly sweet refreshing green tea with chewy pearls are really a great treat. There are also many other variations. One could choose mini pearls as well or jelly. These days, one can buy it at many take away counters. You just order, then they'll prepare your drink and seal the top. When you want to drink it, you give it a shake to mix the contents and then pierce the seal with a straw. Really nice on a warm day!

• United States
29 Mar 07
I really wish they had it in my new town... I have had a strong craving for it lately.. maybe there is a way I could find a recipe online or something and make some for myself at home! Honey green tea sounds really good to me... :-)

• United States
29 Mar 07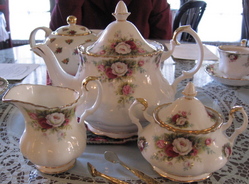 I haven't tried bubble tea yet. I've seen it on the cooking network and I want to try it. It looks refreshing. I also apppears to be something fun to drink as well. Coconut is my favorite so I'll try a coconut bubble tea. Thanks for this discussion. I'll be trying on soon.

• United States
29 Mar 07
Coconut is really good... I've had them mix half coconut with half chocolate for something really decadent. Come to think of it, I don't think I've tried any flavor I didn't like!

• United States
28 Mar 07
Yes I have and only last evening!! :) I had the Strawberry and Honeydew flavoured Bubble Tea, was splendid. My friends and I were at the mall last evening, shopping and the other two friends have had this Bubble Tea before, they told me and I wanted to try it. I couldn't have read this discussion at a better time..lol Yes, yes I've had the tea and loved it especially the bubbles, and the straw totally amazed, hadn't seen one that wide..lol

• United States
29 Mar 07
That's funny you just had some last night! Honeydew and strawberry sounds good.... My favorite part are the bubbles as well.. so chewy!

• Singapore
28 Mar 07
Yes I have! There was quite a trend in Singapore some years back. Many bubble tea shops sprang up and it's hard to turn a corner without seeing these shops. Nowadays, many have unfortunately gone busted though we can still find one or 2 from corner to corner. I especially like the original milk flavor. With or without the bubbles. ;-)

• United States
28 Mar 07
I've actually never had the 'original'... I really like these drinks... not just because of the flavors and varieties, but because they are just so darn fun to drink!

• Philippines
2 Jun 07
That sounds really really yummy....I wish I could try one. I don't know if it's available in our country. ;)