Hot cross buns!


India
April 6, 2007 5:13am CST
Its good Friday today and its the popular custom to eat hot cross buns after the good Friday service.I've been eating hot cross buns ever since the day i got my senses.So how about you,do you eat hot cross buns on Good Friday?
6 responses

• Australia
6 Apr 07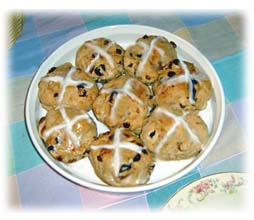 I haven't bothered getting any this year. They do taste yummy. Instead I have raisin bread which I toast and it tastes the same. I must be a party pooper because I've not bought easter eggs either.

• India
6 Apr 07
Dont worry you've still got time to buy the eggs.hmm...i'm kinda curious about the raisin bread.lol

• Australia
7 Apr 07
It's like a fruit bread, but only sultanas and raisins with spices. You can smell the cinnamon. Now I'm hungry and about to toast some. Okay toasted and eating it, yummm! Ooozing with butter. So you get the taste of hot cross buns all year round instead of just at Easter. Am I making your mouth water?


• Romania
6 Apr 07
I'm very sorry you didn't put a pic with hot cross buns here just to see what they look like. I heard about them especially here on my lot but I have never actually known how thy look or what they taste like or anything about the actually :) So the answer is no, I don't eat hot cross buns on Good Friday but I would surely love to try some :)

• India
6 Apr 07

I actually uploaded the picture of hot cross buns sadly there was some problem and a cupid came out from no where.lol.

• India
6 Apr 07
Actually speaking they are not that tasty. Just kidding.lol


• India
6 Apr 07
Too good that you can just find about anything at mylot.Check out this link:http://www.mylot.com/w/discussions/956425.aspx It the recipe for hot cross buns.Hope you guys have fun baking and eating them.

•
6 Apr 07
Oh, and I forgot to say that as well as traditional hot cross buns, it's also the day for eating fish, so no doubt I'll have that for dinner.

• India
6 Apr 07
oh I've never heard about it.I'm smelling fish already.

•
6 Apr 07
Yeah I eat hot cross buns, but I prefer them toasted. I bought myself a hot cross bun loaf yesterday which was nice at breakfast this morning LOL!

• United States
28 Mar 08
I have never tasted hot cross buns - I know the song, bu that is the most I have ever even heard of them. Are they tasty?