Gretchen Wilson in concert.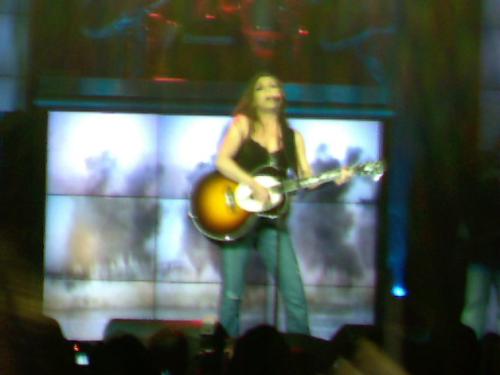 United States
April 13, 2007 12:28pm CST
Who has seen Gretchen in concert. My fiancee is in love with her so last Febuarary I took him to see her in concert. She put on one awesome show, he absolutly loved it. She sang songs from her All Jacked Up Cd and from her Redneck Woman cd. She even sang songs that inspired her. I have been to other concerts but hers I definitly enjoyed. I would love to here what others who have attended one thought.
4 responses

• United States
16 Apr 07
I have never attended one of her concerts, but I would love to if I were ever to get the chance. It would be great if I were able to attend one.

• United States
13 Apr 07
I haven't seen her in concert yet. I want to. Hopefully I will get to this year. She is my favorite. I also like Carrie Underwood.

• United States
13 Apr 07
I have seen her in "concert" but it was QUITE a few years ago, before she was a big star. She's from Pocahontas, IL and she worked as a bar tender in a little bar called "Big O's" ... when they used to have live bands she would sing with the band, always had an awesome voice. So I've seen her in concert but before she was big, looking forward to seeing her in a "real" concert.

• United States
25 Oct 11
i have never seen gretchen wilson in concert i have always wanted to but the tickets are so expensive that i just cannot afford it and i do not particularly like the crowds at concerts even though the music is great the crowd is just not worth the hassle and i have always heard that the singers do not sound as good in person as they do on a cd or the raido so i just cannot see spending hundreds of dollars to hear someone sing that does not even sound that great