We want to get comfortable while at computer!!

United States
April 14, 2007 4:03pm CST
So what are some of the things you do to get comfortable at the computer, I have 2 cushsions on My seat, I have a hassock under my Computer, I have my feet prop up on My hassock. I have a long straight wooden chair, I am very comfortable. I have just started one Blog, and I will do many more I am an amature at this, tell me what you think. also comment on my Blog. and comment on this discussion. here it is hhtp://marcie52.blogspot.com I am experimenting right now. I need all my friends to support me. thank you in advance.
10 responses

• United States
14 Apr 07
Well, aren't you a sneaky one. I love it. I don't really need to make my chair more comfortable as I have sat here so much that my chair is nicely molded to my butt.lol. As for your blog, I am clueless when it comes to them but I did read it. It won't let me comment unless I have an account. And I told you before how lazy I am, so I am not sure if I will sign up. But your blog seems okay to me.

• United States
14 Apr 07
I don't know how that goes other people had commented from here! That was funny what you said. when are you going to show me your Elephant thingy?

• United States
14 Apr 07
I just reread what I wrote and I wanted you to know that I didn't mean sneaky in a bad way. Its that you started talking about being comfortable then you slipped your blog into there. I hope that it didn't come out wrong.

• United States
14 Apr 07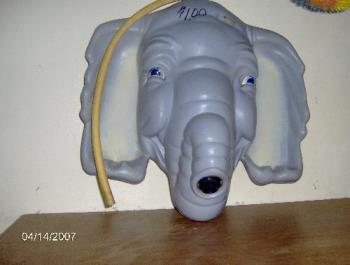 Sorry it took so long, but I had to find it and clean it up. No matter what I do I can't get the price off it. I got it for a buck at a yard sale. Something I didn't know, you can put your soap on the ears. I never noticed that.lol.


• Malinta, Ohio
16 Apr 07
What a setup you got for comfort. I envy you. I have a rubbermaid stool under my desk. Bruce did get me a new chair from Walmart. It is black, padded and swivels. I loved your Blog post! I am still trying to understand blogging. I always thought of it as a journal. But I am now seeing, that it can be much different. Good Luck with the blogging!

• Singapore
15 Apr 07
Wow, you sure are good at making yourself feel comfortable! I must confess that the weather in Singapore is real bad, making me perspire non-stop. Even switching on my airon can't seem to get rid of the humidity. I am sitting on a very uncomfortable chair too. *pout*

• United States
15 Apr 07
My chair is comfortable, what do you mean by *pout* what's that about are you pouting?

• India
15 Apr 07
its most important to maintain right posture and take exercises in between breaks..

• United States
15 Apr 07
I guess your right about that one. thank you for input. welcome to Mylot.

• Latvia
15 Apr 07
All I do to feel more comfortable when I'm at my computer is keeping my glass of water fulfilled or eating while on computer is a great way to feel more comfortable :). Haven't tried a hassock but I probably will. Also one of my chair wheels is broken so thats pretty annoying.

• United States
15 Apr 07
Yes you need to be comfortable when you are going to be on computer for a long time.

• Philippines
15 Apr 07
A hassock? that new to me. I just have a small chair under my table where i prop up my feet from time to time. Though i put pillows on the chair but usually no more than one since i would be too elevated to type up. Sometimes i put pillows on my back for support. I'ts always on my mind what would be the best ergonomic chair for net addicts like us (sorry for the term). The pillow job will do for now.

• United States
15 Apr 07
That's funny thanks for input. have a great day!

• United States
14 Apr 07
I normally eat,drink, and smoke answering these discussions. I've stared blogs at squidoo, myspace, and blogger. If you'd like to see one go to http://www.myspace.com/theponchandwife We haven't completely set it up, but we are just staring too. Lots of Luck. I'm sure we will see you there.

• United States
14 Apr 07
Ok, thanks for dropping by, I will eat while I'm on the computer. I will check it out check out mind too!

• United States
14 Apr 07
All i have at my desk is my comfortable computer chair. I sit in it off and on all day and type here in Mylot. I can't sit with my feet propped up on aything because I cannot type right or reach the keyboard well enough. I type faster when I sit in the chair upright with one fott tucked under my leg. It is more comfortable and easier for me like that. sometimes it is very hard to sit here a long time without my legs and my back hurting me. I don't know much about blogs but your blog looks fine to me. I left you a comment for it. I will support you any way I can. Send more blogs and I will respond to those as well. Good luck in the blog world and maybe you can teach me the ropes on it some day.

• United States
14 Apr 07
thanks for input, you do get tired from sitting for a long time. I don't care how many pillows you have. thanks for visiting!

• United States
15 Apr 07
I just sit in my computer chair, its relatively small so if I put any cushions on it, i most likely woupldnt be able to fit on it! I am a stay at home mom so comfort isnt really anything I have time to get used to for the small amount of time my 8 month old daughter lets me stay online!

• China
15 Apr 07
I have a lot of things to do with my computer,my computer can make my time go much more quickly.So of course I can get comfortable while computer.