Demons and Angels...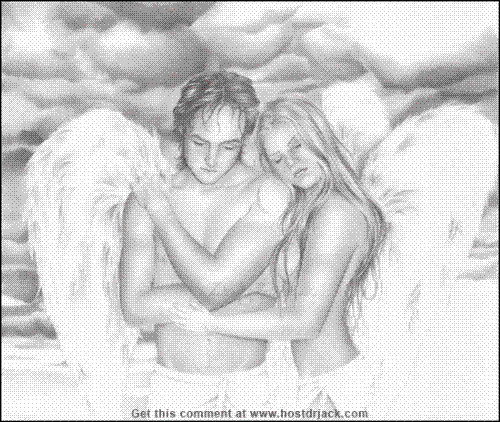 April 21, 2007 9:50pm CST
Firstly, do you believe there are both Demons and Angels, or do you believe only one of these exists, or neither? Having ascertained those beliefs, do you think Angels outnumber Demons or vice versa, or is the Universe so well-balanced that there are equal numbers of both? How do you define an Angel and how do you define a Demon?
7 responses

• Australia
22 Apr 07
Good discussion, Darkwing. As you already know, the only answer I can give to this question is from the Bible. I know some will disagree and will quote other authorities, and that is their right, but the Bible is the only authority on the subject which I can accept - and that is my right. I believe a demon is an angel: a fallen angel. The Bible tells us that Lucifer rebelled against God, trying to exalt himself above God, and one-third of the angels followed him. Lucifer and the one third of the angels were cast out of heaven and we find these later referred to as evil spirits or demons. Angels are an order of created, immortal, celestial spirit beings who act as God's messengers, carrying out His will and purpose joyfully, unquestionably and faithfully. While angels do God's bidding, demons do the bidding of Lucifer who is also called satan, the devil, and several other names.

•
22 Apr 07
Yes, I respect your beliefs, as you well know, even though mine are not exactly the same, you're entitled to them, as I am mine and indeed, others are theirs. Funnily enough, I agree with you on the most of this, if not all, but Lucifer is Lucifer the Fallen Angel, to my mind... not Satan, or the Devil, because in my World, Satan does not exist as a singular force of evil. Also... and this might seem quite strange to you, knowing my beliefs... I do believe that Lucifer maybe had just one adversary, (as in your God), but I believe this one adversary was a joining of several powers in one, stronger force. (I hope you can understand that... it's difficult to explain). To put it in as few words as possible, I believe Angels and Demons to be positive and negative forces, respectively. An excellent response, well worth a + rating, for which I thank you, Cloud. Brightest Blessings my dear friend.

• United States
24 Apr 07
I was raised on similiar ideals. While I respect your values, and belief system, I agree with Darkwing that Lucifer is not the devil or satan, as this being is described, but rather the devil or satan was a later creation kind of the way Santa Claus is based on Saint Nicholas, Saint Nicholas was a man a catholic bishop who did help others, give gifts etc, and that the story of Santa is an offshoot of this. I think the same is true of satan or the devil. Though legend holds that the devils greatest achievement was to convince man that he did not exist. Darkwing, I like you explaination of the positive negative energies, forces, beings, whatever label you like, it is the simplest, explaintion, after reading this question more than once over the last couple of days I finally realized that I had some kind of answer but as you said finding the right words is not easy.

• United States
24 Apr 07
Cloudwatcher I am not attempting to change or alter your values or belief system but showing why I may view Lucifer as someone who is not satan or the devil, since the references of associating the name of Lucifer with satan or the devil came much later. I suppose that is why I see satan not as a specific being and not as Lucifer but as an entity or energy of a negative force. If you look at Lucifer in Isiah 14:12, it referred to one of the popular honorific titles of a Babylonian king; however, later interpretations of the text, and the influence of embellishments in works such as Dante's The Divine Comedy and Milton's Paradise Lost, led to the common idea in Christian mythology and folklore that Lucifer was a poetic appellation of Satan. In modern and late Medieval Christian thought, Lucifer is usually a fallen angel commonly associated with Satan, the embodiment of evil and enemy of God. Lucifer is generally considered, based on the influence of Christian literature and legend, to have been a prominent archangel in heaven (although some contexts say he was a cherub or a seraph), prior to having been motivated by pride to lead a revolution against God. When the angel failed, Lucifer was cast out of heaven, along with a third of the heavenly host, and came to reside in the world. In the Vulgate, an early-5th-century translation of the Bible into Latin by Jerome, Lucifer occurs in Isaiah 14:12-14 as a translation of the Septuagint Greek word heosphoros ("dawn-bearer"), an epithet of Venus. The original Hebrew text of this verse was ???? ?? ??? (heilel ben-schahar), meaning "Helel son of Shahar." Helel was a Babylonian / Canaanite god who was the son of another Babylonian / Canaanite god named Shahar. Helel was the god of the morning star and his father was Shahar, god of the dawn. Some translations of Isaiah 14:12 "How art thou fallen from heaven, O day-star, son of the morning!" American Standard Version translating Hebrew Helel as "day-star" and the Hebrew word ben as "son" and the Hebrew word shahar as "morning." Others translate it as "Lucifer, son of the morning" 21st Century King James. In Isaiah, this title is specifically used, in a prophetic vision, to reference the king of Babylon's pride and to illustrate his eventual fate by referencing mythological accounts of the planet Venus: In modern Jewish theology, Helel in Isaiah 14 is not equated with the Jewish concept of HaSatan (the adversary). Instead, the prophet is speaking of the fall of Babylon and along with it the fall of her false gods Helel and Shahar. There is satan which is a Hebrew word meaning "adversary" and in the Tanakh one will find many instances of the word used to describe human and angelic adversaries to man. Later Jewish tradition, influenced by Babylonian mythology acquired during the Babylonian captivity, elaborated on the fall of the angels under the leadership of Samhazai ("the heaven-seizer") and Azael (Enoch, book vi.6f). Another legend, in the midrash, represents the repentant Samhazai suspended star-like between heaven and earth instead of being hurled down to Sheol. It is noteworthy that the Tanakh does not at any point actually mention the rebellion and fall of Satan by name. The name Satan itself merely means "enemy", apparently more of a title. A passage in Ezekiel 28 contains a lament over an "anointed cherub" who was in the "holy mountain of God". The passage goes on to describe this being's expulsion from the "mount of God." In the literal sense, this passage refers to the King of Tyre. However, ancient Christian commentators would frequently interpret Scripture allegorically and anagogically, as well as literally, and it was common for them to extend the meaning of this passage beyond the literal sense, and see an allegory of the fall of Satan in it.


•
22 Apr 07
Hmmmmmm, and interesting concept, my friend. However, do you think that "we" house completely angels inside, completely demons, more of one than the other, or equal numbers, in order to find our balance? :-) I find that sometimes my conscience has conflicting ideals, and maybe this is where good wins out over bad forces, but I find it interesting to hear what others think. Sorry to pick on you, but I liked your response. + rating btw. Brightest Blessings.

• United States
24 Apr 07
I am not so sure that I would use the term demon, but yes there are evil, and negative entities as well as Angels, there are many Angels around, so I suppose there are many negative around as well. I hadn't really thought about if there was an issue of one group out numbering the other, I doubt the either does, most likely there is a balance of positive and negative beings, entities, energies, maybe not exact same amount but somewhat balanced out. Angel is that being created by Divine Source, for guidence, and to help serve the Divine Source as well as help aide, protect, and guide people. Demon, I suppose would be a negative energy, being, or entity that exists and has malevolent intentions, set about to harm, sway, or otherwise disrupt the lives of people who may be following a "good" path.

•
24 Apr 07
Demon is just a commonly used word, as is Angel, and I thought it clarified the discussion. In actual fact, I agree with you, that they are negative and positive forces. I agree with all you say and am going to give you a + rating for this response as it is so well thought out and explicitly logical. Thank you for your contribution Now, and Brightest Blessings. May your Angels well outnumber your Demons! :-)

• United States
24 Apr 07
I also gave this discussion a positive rating, it definitely gave me something to think about. I actually thought about it more than once since you posted it. I also liked what Cloudwatcher had to say as it forced me to look at my views on yet another topic that is related and that of Lucifer, and the labels attached such satan or devil.

• United States
24 Apr 07
As for my angels outnumbering my "demons' well I have always felt protected, regardless of what I encounter. I do think that we have more than one guardian angel watching over us, and that we can call upon other Angels for specific help. As different angels watch over different areas of life, such as when needing help with healing, or communication, or strength in a disagreement or resolving a conflict. Then you ask for help from some of the ArchAngels, such as Michael, or Raphael, or Gabriel, or Uriel, just find what it is you need help with, and what Angels are closest to that area and you can ask for help. I liked how one person put it, we have free will to do as we choose, but we can also choose to ask the Angels to guide us, and help us, and even influence to the right directions. That they won't interfere unless it is life threatening or we ask for help. They respect our free will but are overjoyed to come help whenever we ask for it. I think that is a nice idea to hold on to.


• United Kingdom
22 Apr 07
Well this is a hard one I want to believe that there are more Angels about to be honest I know I must have an Guardian Angel somewhere which does not keep the Demon away but stops the Demon doing to much harm I might be wrong but this I believe An Angel is there to guard you and lead you A Demon is there to cause Evil and try to lead you the wrong way

•
22 Apr 07
Ok, Gabs... let me put this to you. I think your Guardian Angel has found you, or you him/her, because you radiate goodness only... never any harm, or malice. You have fought with your Guardian Angel to defeat the demons and better your inner self and your life on the way. You have found, despite there still being a few trials and tribulations, a much better life that that of old, and you're improving it every day, by your kindness and sharing. I hope you understand and agree with this. I certainly feel you have encountered both demons and angels in your life, and are now being guided into the light by your Guardian Angel. I pray I'm right here, sweetie, because you deserve only the best in life. Brightest Blessings.


• United States
24 Apr 07
I always liked this quote regarding Angels "Angels transcend every religion, every philosophy, every creed. In fact angels have no religion as we know it ... their existence precedes every religious system that has ever existed on earth." St. Thomas Aquinas


• United States
24 Apr 07
I believe in both but I'm sure my beliefs are different from others. I think demons are within us. We do things to bring them out. Sometimes its for pleasure. I think angels live through our ancestors. I feel like my mom (who is deceased) watches out for me. I think each of us has an angel who looks out for us. but sometimes the demons take over and then you get hurt. When a demon takes over someone, that person can hurt others as well. Angels can't always stop the demons from hurting us. But they do give us clues if we listen to them. Its like that inner voice that says. "Don't go into the closet"! lol. Some people just shake that off and go into the closet anyways. The big one eyed green toes lizard is there waiting to eat them up.

•
25 Apr 07
What wonderful imagination you show in your writing. Have you ever thought of writing stories or poems? I think you'd do well. We are all entitled to our beliefs, my friend, and yours are not so different from others. I agree with them and find them most interesting. I am of the belief that I have an Earthangel. I met this person for the first time when he was working here. He didn't know me and I didn't know him, yet we both had the feeling that he was sent some 250 miles to be in this place at a time when I was very downhearted, because he latched onto the fact and pulled me through. He made me see things in a different light and within sixteen months, he was gone. We still keep in touch... in fact I'm missing his advice in one area at the moment because the last I knew of, he went to New Zealand for three months holiday. It's like a part of me is missing, yet we were never more than close friends. Ah well, I suppose I shall hear from him when he gets back. lol. Thank you for your response, MsSnow and Brightest Blessings. May your Angels always be beside you.

• United States
25 Apr 07
Thank you. Yes I have thought about writing. But I can't seem to get motivated lol.I think with people like you who encourage me though. It might help me along. lol. Never really thought of an earth angel. But that is great that you have one. I'm sure very soon you will hear from him. :) Have a wonderful day Darkwing!! I know my angel is right here beside me, I hope yours is right by your side as well.