My Stress Reliever

United States
April 22, 2007 11:32pm CST
Saturday night I was stressed BIG time due to dads health and my mental state in that area as well. My daughters fiancee had to work till 2:30 a.m. I was having the eldest grandson spend the night but due to her BFs work they all stayed the night. I decided to take all 3 with me to the car races here near my house. We all had a blast. The younbgest Hunter fell asleep about 900 or so. Even the noise from the Monster Trucks didn't awaken him. We saw a few different types of wild races. It was one of 6 Eve Of Destruction Nights the local tracks hold. The most fun I had was the Figure 8 Races. I've always loved them. The whole evening cost me aroun $200 but it was well worth it being with my daughter and grandsons for the whole evening. Thanks for letting me blab on about this fun night. The attached picture is of my Daughter Mandy Tyler & Hunter my grandsons. HAPPY POSTINGS FROM GRANDPA BOB!!~
3 responses

• Australia
23 Apr 07
Ohh, now I get it. It was truck races. I can just imagine young boys just loving truck racing! The only time I have ever seen anything remotely like this, as it at the Royal Adelaide Show, when we see trucks doing tricks!

• United States
26 Apr 07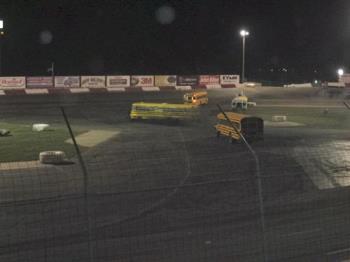 It was car raqcing with a performance by the buses and 2 Monster Trucks. Attatched is another photo. This one of the bus races. HAPPY POSTINGS FROM GRANDPA BOB!!~

• United States
24 Apr 07
Bubba is still trying to recover his sleep from that night. Change the kids routine and you might as well stop the earth from turning. But he did have fun while he was awake.

• United States
13 May 07
It's good that you got to go out & have fun & get a brake from all the stress of your dads health. I have been trying to get my mom to go with us & my niece to the races for ever but its a dirt track & she is allergic to dust, not to mention she hates raceing in the first place. But still, it's lots of fun. Glad yall had fun. Did your wife get to go too?