Do Witches Have A Bible?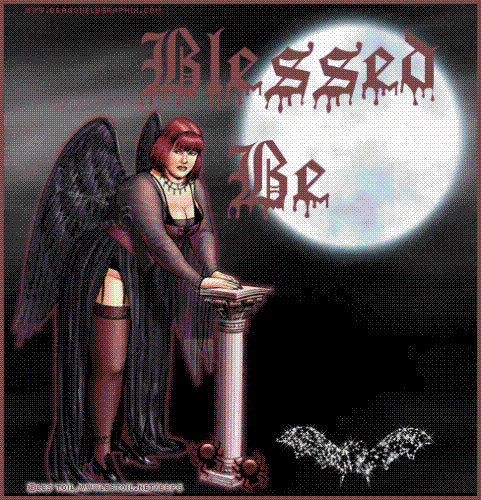 April 27, 2007 4:53am CST
I was once playing Poppit in a Pogo Games room, named Spiritual. That indicates my mood for the evening, and I was set for a quiet game of Poppit, to attain my weekly badge. I hadn't been in the room for too long before a Born Again Christian asked, "Who else is here, tonight? Do we have any Wiccans who would like to chat?" Like a fool, I responded, and boy, did this woman put me on the rack? I took a deep breath and proceeded to answer her first question... "Well, what do you think was the Beginning... do you have a Bible?" I replied "Yes, we do have a Bible." More questions followed and I was stuck with this woman, who kept quoting her Bible for about three hours. Actually, ours is a general witches' Bible but it holds my beliefs and I would like to share them, just to clear up a few myths about witches being bad, with the first three verses from this... "In the beginning was the Light and all things that were, are, and shall be were in the Light. The Light is The Creators, our God and Goddess. And the Light said, Let there be life, and the reverberating vibrations of Their voices caused the creation of the Universes. And the worlds were created and in them were the elements of life; fire, water, air and earth. And the evolution of life began. This was the beginning of ages and cycles of ages." So, you see, we believe in elements and forces rather than super beings. We just create images of humanoid Gods and Goddesses in order for our minds to better accept and understand the forces and elements. We don't have weird ideas about the Creation of the Earth... and we are not evil, we are healers and we respect the Earth and Nature. This, to me, is quite similar to Christian Beliefs, except that Christians believe the powers all to be the make-up of One God. So what are your beliefs? I am proud to admit that I am of the Seax Wica Tradition, which works on the basic Wicca Tradition, combining those of the Anglo Saxon religion. I believe in and follow the old religions, and walk with my head held high. How about you?
7 responses

• Edinburgh, Scotland
27 Apr 07
The universe is a mighty powerfull force that is all around us. Since time began there has been many many cultures and beliefs of all different kinds and anybody that says that there beliefs are the only true ones are diludeing themselves and they should not try to force thier beliefs on others. who is right and who is wrong is of no consequence. We are all here to live in harmony with each other and the basic rules apply to all that helps do that, so that no-one kills or harms anyone being physical or mentally. Brightest blessings to EVERYONE from Deeeky.


• Edinburgh, Scotland
27 Apr 07
Witch is a name given to those people that did things in those times that others could not understand. In todays modern times we have come a long way in understanding the forces that surround us. But there will always be different cults and beliefs but there is only one force that surrounds us all.

•
27 Apr 07
Well said, Deeeky. You're quite right, the "wise" women of the pagan villages were not understood, nor were their powers of healing and such. That's why the male fraternity wanted rid of them because they didn't have the same wisdom and power. That's a brilliant response, worthy of a + rating. May I ask what your beliefs are, or are you not sure, or would rather not say? It's ok, if you don't want to share. :-) Thanks for your input. You surprised even me, there! lol.

• Edinburgh, Scotland
27 Apr 07
I did not have a choice to come into this world but now that I am here I try to live as happily as I can. If I can make people happy on the way then that makes me happy. We all get angry thoughts sometimes but that is all they are. I would never hurt anyone intentionaly and I respect everyone having thier opinions and thought as well. I suppose really that sums up my beliefs and to study all the different beliefs through out the world is not my cup of tea. My mind is inside my brain and inside this body I have been given but I am of the opinion that my thoughts are from somewhere else in the universe and connected in someway to all other thoughts that are living in bodies or passed through to another plain. Two or more minds working together can have a great influence on certain outcomes that are now happening in the world and I hope that many more good minds connect and make this wonderfull world a much better place to live in. May all your thoughts be happy ones from Deeeky.


• Australia
28 Apr 07
Darkwing I found this an interesting discussion to read. You know I respect you and your right to your own beliefs. I do know that witches are not evil, and in fact I believe they are - or at least the ones I know are - better living than many Christians I know. I am very happy to call you and others I have met here on myLot my friends and if we lived in the same area I am sure we would see quite a lot of one another and share happy times. I think you know that when it comes to talk of God, there is only one God I can accept, and that is my loving heavenly Father, the Creator of this universe and everything in it. I know you believe there can be many Gods, but as I see them having so many differences, and teaching different eternities, I fail to see how this can be. You see a similarity between the Christian belief of creation and yours, but I can see no similarity at all. I know many will disagree, but I believe there is only one LIVING and true God. Throughout history, as recorded in the Bible and in worldwide history, there have been and are many, many Gods and Goddesses. As I've mentioned before, no tribe has ever been found that does not worship a god of some sort, be it a mountain, volcano, river, the sun, moon or stars, stone, rock, wood, animal or so many other things. Man was made to worship and will always find something to worship. I know you find as much satisfaction in your religion as I do in my relationship with my Saviour. I know one other friend on myLot has said her relationship with her mother goddess is like I described with my Father God. I am happy for you both that you find peace and satisfaction in what you believe. In saying that I believe you are wrong, I am not meaning to criticise your belief, or condemn you, but I am expressing my total and uncompromising belief that there is only one true God. I am sure you believe I am wrong, but neither do you criticise or condemn me. In this area we have to agree to disagree.

•
28 Apr 07
Hi Cloud! Firstly, let me say the key thing I picked out from this response is that you say you're sure I believe you are wrong. "No, I don't think you're wrong, at all." Deeeky mentioned right and wrong, but I don't believe there is a "right" or "wrong" belief. Belief is one's personal idea about what they see in their own mind... what they conceive to be the truth about the Creation of the Universe and all that is in it. How can any one person's conception be wrong? It's their belief, and although mine is slightly different, I don't consider mine is right and yours is wrong... it's our own, personal belief and neither of us really, definitely knows which is right or wrong. Therefore, we can't condemn any belief... they're all right... don't you agree? I know of your strong beliefs, and if they are right for you, then they are right. Nobody has the right to argue with you or try to change your beliefs, because they are part of your make up. To me, your beliefs have made are one of the most pleasant, gentle and understanding people on this Earth, and indeed, we hit it off after two or three meetings on here. I treasure you as a good friend now, and am hoping all your dreams of a Garden Party get together will come to fruition. Wow... ambitious, but I really think it could work, and would love to meet a few of my friends from Mylot, including you. Thank you Cloud, for aother good quality, expressive response. I value your views. Brightest Blessings.

• Australia
29 Apr 07
Darkwing, in your response I think you have hit on the one distinguishing thing that separates us. It would seem that you see man (I speak in the sense of all humans) as having the right to believe what ever they choose to believe: to be their own god, in a sense. When I accept that there is only one living God who created this world and everything in it, including mankind, out of nothing, I accept that HE and He alone, has absolute authority. I accept His authority in my life and I live by that authority. I accept my responsibility and accountability to Him. I do not believe man has the right to form his own beliefs - and certainly not to alter what is already determined. When we are talking about absolutes, or something that has already been done, how can different people believe different things, and they all be right? Only one can be right. It is a poor illustration, but let's consider my house. It is granosite on the outside, but people could have differing beliefs about whether under the granosite there is cavity brick, brick veneer, concrete block or timber. What sort of reinforcing is under the concrete floor? Was it termite-proofed against white ants? Only one can be right. Maybe no one can prove what is right without demolishing the house, but the fact is that only one can be right. As I have stated before, in other discussions, I can supply much evidence for the existence of God, but I cannot prove His existence apart from personal experience. Neither can anyone disprove His existence. In the same way I cannot prove that He created the universe from nothing, but no one can disprove He did. I suppose in that sense we can say that no one can be right or wrong, except that when it comes to the bottom line, only one can be right and the other, or all others, wrong. The can't all be right. Darkwing, I think that when we do meet in person we are going to have some long days and nights in deep conversation and I look forward to such a time with much anticipation and pleasure.

•
29 Apr 07
Hear hear to the long days and nights in discussion! lol. We have long enough ones on here. I have to say here though, when I say there is no right and wrong, I'm trying to say that we all believe our beliefs are right, but we see no wrong in other people's beliefs. I hope that clears that up. I admire your faith in God, as you envisage Him, as much as I have faith in my Deities. Thank you for a great response yet again, my dear friend. We could certainly set the World alight between us! ha ha ha

• Australia
27 Apr 07
Oh wow this is very interesting to read but as for myself I belong to the traditional church and therefore I am a Christian I only believe in the one God the creator of all. Although I do not put down those who believe in other ways as this is what they want to believe in which is fair enough as long as they do not try to force their beliefs on me, and let me be in peace with God.

•
28 Apr 07
Great response Kathy. I'm glad you found the discussion of interest. I know a lot of people don't get to read and understand my beliefs but then I guess I never push them on anybody. However, this woman in Pogo expressed a real interest, or so I thought, and I figured it might be of interest to others, that we DO have a bible and we're not as wicked as people in general, tend to think, in the light of past happenings. Salem, Massachussets is a fine example. Thank you for taking time to read and digest this, Kathy. I appreciate it very much and am awarding a + rating with Brightest Blessings.

• Australia
27 Apr 07
Oh Darkwing, what a great discussion. You already know that I am a Wiccan too and follow the old ways. We are not evil people who wear pointy hats and ride around on broomsticks casting evil spells on all and sundry. As you so rightly say we are healers and we celebrate the seasons and nature. I too walk with my head held high and with a clear conscience! LOL

•
27 Apr 07
Well, I am proud of you too, Feralwoman. I certainly don't have a pointy hat, lol, and my only broomstick clears the negativity from my space and indeed, my home. I don't like negative or evil things, that's for sure and I never put out bad things, so I thought this discussion might enlighten a few, who don't understand what a Wiccan/witch is about. Thank you so much for your quality response, and Brightest Blessings, my friend. I am rating your response with a +.

• Australia
27 Apr 07
Awww thanks for that Darkwing. A lot of people have misconceptions about us. I think it's great of you to start a discussion like this to clear things up, hopefully ...

•
27 Apr 07
Hi honey I am a christian and I believe strongly in God and Jesus , my faith is important to me and I am not ashamed of it! That said I do not think that because I believe in this then everyone should otherwise what would be the point in free will! I am so sorry that this woman treated you in this way - as a christian I believe that we should accept and respect the beliefs of others , intolerance is a twist on the christian belief that I think negates what we are put on this earth for! Thank you so much for putting some information about your beliefs - I am really interested in finding out what other religions, beliefs and cultures represent and I think that these should be treated with respect and not ignorance! Great discussion Darkwing - hope to speak to you soon! xx

•
27 Apr 07
Thank you Mummymo, for such a quality response, which is full of sensitivity. I agree that we should all be allowed our own beliefs and should be left to follow them in our own way, without respite. Having said that, I don't think Christians as a whole are anything like this woman. She was a Born Again, and I have encountered a couple of those. One, who was a friend, apologised for having alienated me. His words were, "Who am I to judge you? God will judge you and I am not God." I thought that was quite sweet, but of course, I don't believe in "Judgement Day". However, he has his rights as I do mine and we renewed our friendship from there on. You're quite welcome to the information. It can always be found online if you know what you're looking for and I agree, it's good to know about different cultures and religions, and to understand them. Thank you again, Mummymo and Brightest Blessings on you, and yours.

•
27 Apr 07
I've met the type of Christian you describe - have been asked how can you be friends with a muslim when you are a christian? D'uh these people should actually find out more about the basic tenets of the faith they proclaim to follow - you should have pointed out ' let he who is without sin cast the first stone' or ' judge not lest you be judged'! I am happy and proud to have friends from many different backgrounds and I am so pleased that this woman did not lead you to believe that we are all the same! Thank you for your lovely words sweetheart - it means a lot! xx

•
27 Apr 07
Me too, Mummymo. I agree with you wholeheartedly. I think these type of people get hyped up at their meetings, but it takes all types. What we should seek is peace within religion and culture, and the world would be a much better place in which to live. Bless you. I'm awarding you a + rating for your original comment, as I feel it's of much value to all religions. If only everybody could see things that way, a lot of lives might have been spared. Huggggs x

• United States
3 May 07
This is the first time I have ever heard this I just have heard that there are good and bad witches. LIke say white witches do good and black witches dose bad. This is very interesting. I beleive there was a creator and there is sky earth fire wind am studing some of the native american ways thru books wrote by arcgiolists (sp)How 1000s of years ago how the Natives lived and survived across america. I Was raised a Mormon But I dont hold to all that they believe in or teach.And I know that the bible was wrote by just humans and is a history of humans thru the years of old and what they thought was the beginning of time. There is a saying (just walk a mile in my shoes). Then maybe you can talk about me but I dont downgrade anyone or what they beleive that is up to the person to do what they want to believe in. I got where I dont talk to any one in pogo there used to be to many people being mean. and WE had some darksiders in there that really would get your goat but I dont think they were wiccan. hugs

•
3 May 07
I don't believe in there being black and white witches. As far as I'm concerned, a witch is a witch, good or bad, in just the same way as most walks of life have a good and a bad element. The saying you put forward is a good one... and so true. As for Pogo, there are some rooms I steer well clear of. You tend to find out where the not-so-nice people go, and as soon as I find I'm in a room inhabited by them, I'm out of there, and into another room. I've met some very loyal and good friends on Pogo, and I like to play for my badges, so I still go in thee although not as often as I once did. Thank you for your response my dear friend. Love and hugs to you.

• United States
3 May 07
I like to do my badges too! and do most of them but not last week this my son in law did them while I was gone I havent looked for this week yet to busy tring to get email answered. Yes you are right there are good and bad every where. and like you I go to other rooms in pogo