Animals Spared the Pain of Testing!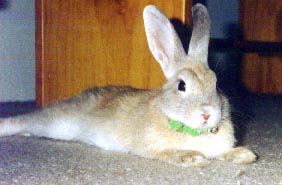 Australia
April 27, 2007 11:56pm CST
All you animal lovers & anyone with an ounce of humanity will pleased with the following news. The Eurapean Union has decided they don't need rabbits & mice anymore to testing washing liquid & cosmetics. Some 20,000 rabbits a year and 240,000 mice are used every year for chemical testing in the EU. An alternative and more reliable ways of checking the safety of chemicals in everyday products has been found. Thank goodness Europe have moved forward in their thinking of how to treat animals. The question is, will other nations?Read the full article here:http://www.news.com.au/adelaidenow/story/0,22606,21635573-5012777,00.html
8 responses

• United States
29 Apr 07
Thanks for posting this. I would like to see manufacturing to go as animal free in its testing as possible. There has to be better, more reliable ways to determine the safety and efficacy of products.

• United States
28 Apr 07
Thank you Jenny that is great news. Wish it was all living creatures world wide.

• United States
28 Apr 07
I just think that this is becoming more in step with our technology. We can do so much now which does not need the participation of animals. As usual Europe is ahead of the times and doing logical things with medicines, herbs etc. Thanks for sharing this with us today.

• Australia
28 Apr 07

Hello,jennybianca, I love animals and I am sad that some of the animals are being used for experiments and study for liquid and cosmetics.Most of the time the animals may be killed and it is cruel to do that just for these experients,and the animals may have suffered alot of pain and torture during the experients.

• United States
29 Apr 07
awesome:) i would rather not use a product at all instead of having it tested on animals.i do hope more countries will follow suit.

• United States
29 Apr 07
Oh,Jenny that is so wonderful! I am so happy and wish that all countries would follow suit!I would give you 50+'s if I could !

• United States
29 Apr 07
It's about time. I'm glad, now I hope other places will stop animal testing of cosmetics and detergents. It's just plain cruelty.

•
11 May 07
At long last! In this day and age there is no excuse for testing toiletries, cosmetics and household cleaners etc on animals. It's unreliable, cruel and unjustifiable. Persoanlly i'd like to see laws against testing cosmetic/ make-up/ toiletries ecpecially on animals.