weekends

Davao, Philippines
April 30, 2007 4:54am CST
Weekend means so much for me and my family, since its the time for bonding or get together with family members, it could also mean relaxation and shopping for others, if i have experienced a good weekend then i can be assured of an interesting, refreshing and energetic feeling on the start of a working day on a Monday..Have you ever been experienced a good or worst weekend?share your stories plss..
7 responses

• Indonesia
30 Apr 07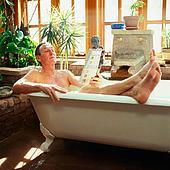 i just got married 3 months ago and on weekend we always try to do something like go to the cinema, eating outside or visiting his or my parents. before married mostly i spent my weekends with my friends. so far i never had bad weekends unless if u think stayed at home did nothing but slept was a bad thing to do.. :)


• Singapore
1 May 07
Hi vanities, weekends are never dull for me. It's my most precious days out of the whole week. I always have something planned with my love ones. Outing/picnic in the park, cycling, spring cleaning, baking, eating, shopping, kite flying, swimming, etc. In a nutshell, there are just so many things to do and so little time during the weekend. A great weekend would be an equally great start to the week when i get back to work on monday. I'll walk with a beat in my step and a smile greeting you on monday morning! Cheers! - Lyn

• Malaysia
30 Apr 07
During weekends, my family always go out and eat outside. Our outing start from 10.00 am ( that is where all the shops start operating). We have brunch and then go for window shopping. If there is something that of interest, we just buy it, otherwise we continue with window shopping. I agree with you that a good weekends is interesting, refreshing and energetic feeling on the start of a working day. Even if I am a housewife, it does apply to me too.

• Singapore
30 Apr 07
I am quite a boring guy. Weekend or not weekend, it's already like a holiday lol. But I feel more relaxed over the weekends.

• Australia
30 Apr 07
Hello,vanities,a good weekend for me is when i can do something i want to do or i have planned to do.I will be happy if i can go out to the beach or meet up with my friends, a simple weekend will make me happy.A bad weekend for me is when i have to cancel all my planning due to bad weather,I will not go out when it is rainy day.I will stay at home and i will waste the weekend.

• United States
5 May 07
Well, that is just great for you then. We do alot of things in the weekend as a family. It is the only time we get to spend time with each other.