Little Bit - My Daughter Amanda's Pride and Joy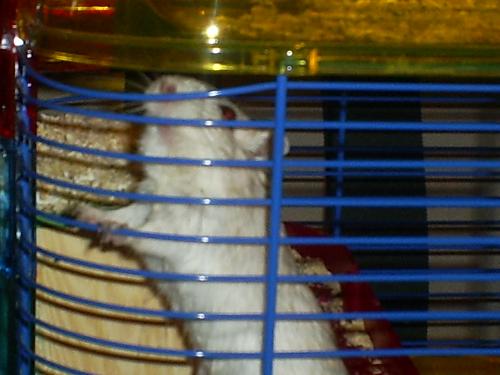 United States
April 30, 2007 5:45pm CST
Amanda got this little gerbil for Christmas and she has enjoyed her so much. She loves taking care of her. Little Bit has never let Amanda hold her but over the weekend she has started taking pieces of food from her fingers and Amanda is tickled to death!! She is hoping that she is starting to get more used to her now and will eventually let her pick her up. I have to admit I've gotten used to the little girl myself. I bring her into the office with me while I'm working during the day as long as Wilbur the kitty isn't inside. If he comes in we have to move her to another room because if he gets near her cage and sees her move he will start slapping at the cage trying to get to her. She sometimes stays in my office at night which is right next to mine and my husband's bedroom. It is funny because sometimes when we are just getting ready to drift off to sleep she will start running on the wheel in her cage. My husband gets a big kick out of this as much as I do. Several times I have awakened during the night hearing her running on her wheel. Little Bit the gerbil, another part of the McCrary family.
2 responses

• United States
30 Apr 07
Oh that's cute. I hope she'll be able to hold her soon. I bet she is so happy that she's starting to take the food from her too!

• United States
30 Apr 07
Thank you. I didn't know if the picture would turn out good or not but I see it looks just like her.