This is for all you grandparents out there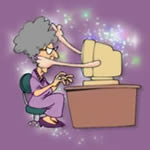 United States
May 1, 2007 3:25pm CST
I just had to share this with all you grandma's out there THE COMPUTER SWALLOWED GRANDMA This is a tribute to all the Grandmas and Grandpas who have been fearless and learned to use the computer. The computer swallowed grandma. Yes, honestly it's true! She pressed 'control' and 'enter' And disappeared from view. It devoured her completely, The thought just makes me squirm. She must have caught a virus Or been eaten by a worm. I've searched through the Recycle Bin And files of every kind;I've even used the Internet, But nothing did I find. In desperation, I asked Google My searches to refine. The reply from him was negative, Not a thing was found 'online.' So, if inside your 'Inbox,' My Grandma you should see, Please 'Copy', 'Scan' and 'Paste' her And send her back to me![forwarded by Turpin Ashurst] from http://www.mikeysFunnies.com/sub/
5 responses

• United States
3 Jun 07
I had seen this one before but it had been a while. This one is Cute, and better not let the older people just learning how to use a Computer see this, or they might think this could really happen to them.

• United States
3 Jun 07
Good point, and you made me laugh with that comment.

• United States
29 May 07
As a grandma who's been using computers for years, I really got a kick out of that poem. Thanks for sharing. I'm sure that at times my hubby feels I've been swallowed by the computer...LOL.

• United States
3 Jun 07
From one grandma to another, thanks for the Best Response.

• Ireland
4 Jun 07
I love that, thanks for sharing it! My mam took the plunge at 64, and now that she is 71 she is still loving her computer, although I think it is time for an upgrade! She wants me to teach her how to burn disks of all her digital photos so she can share her 'slideshows'. Go granny go!

• Philippines
2 Jun 07
Hahaha! thanks for making me laugh!!!

• United States
29 May 07
OMG That is too funny. Im going to send it to my mom right now. I know she will get a kick out of it. Thank you for sharing this here on MyLot.