Paris Hilton Going to Jail: What do you think?

United States
May 6, 2007 9:58am CST
Ok, guys, what do you tink about this? Paris Hilton is supposed to go to jail on June 5th and spend 45 days for violating her probation and driving with a suspended license (that incident was in February). Now remember she was on probation from a drunk driving charge in January, just a month before! Do you think this is a fair sentence, and if not what do you think she should have got?
5 responses

• Canada
8 May 07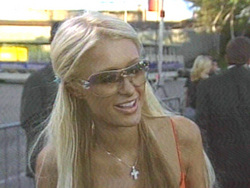 She definitely needs to be punished. How disgusting that, as per http://www.kttc.com/ Hilton apparently told the judge she wasn't aware that she was not supposed to be driving while her license was suspended. This means she really is as stupid as she acts. We have a word for that Paris: DUH.

• New York, New York
6 May 07
She commited a crime and violated her probation and she deserves to be punished like anyone else. She can afford and has a driver but refuses to use the drive so she will drive drunk and when her license is suspended she continues to drive even with her headlights off. Now what kind of behaviour is this? Not one of a spoiled brat that does what she wants to do? She will not be pleased wearing a yellow jumpsuit and eating prison food and having to leave her chihuahua at home. Maybe she will learn something from this and her hang out buddies better watch out because they might be next. Paris and Britney goes out to parties without wearing underwear, they have their picture taken and it's posted all over the news and internet - is this funny? I want to see if she wears underwear in prison. Ha!

• Philippines
6 May 07
I think it's fair. She needs to be punished, and learn it the hard way. Justice must be served to her. Multiple violations have been committed by her. Who knows she might learn from it. =)

• United States
9 May 07
Paris Hilton is an elitist, snobbish little prig who needs a reality check big time. I've seen videos of how she drives. She's a menace behind the wheel, and one of the videos had a suspicious white powder gracing the trunk of her car. (She was searching for a missing Blackberry...) Admitting to a judge that she 'has people to do everything for her' is not an effective means of effecting sympathy for reckless behavior. Admittedly, the girl is pretty. So what. Many girls are pretty, lots of them are self respecting and responsible to boot. The only claim Miss Hilton can make to fame is having a fortune. She didn't do squat to make it. She's a member of the Lucky Sperm Club. That doesn't make her an elitist, snobbish little prig. Many young women are heiresses and lead decent lives. It's how Miss Hilton leads her life that is garnering so much fowl press. It is her contempt and endangerment of fellow motorists that run fowl of the judge.

• United States
6 May 07
She should get the same punishment others would get. being famous does not change you from being human. You know right from wrong like all of us. She is getting a break and she is probably going to freak out from day one. I know the 45 days may be enough to teach her a lesson. I hope she gets just what she was looking for in prison. She may just be held in a private section out of population. Lucky her no kitchen duty.