The Magic School Bus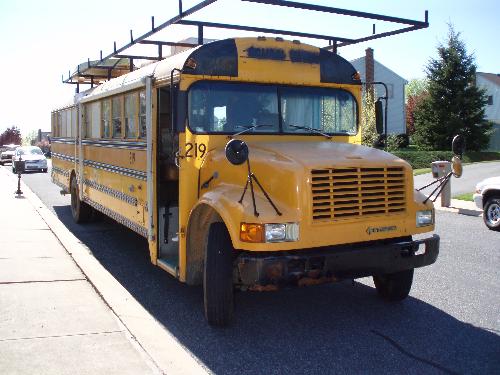 United States
May 7, 2007 8:25pm CST
Well my sister is a little odd. Her family, recently bought a school bus and are converting it into a RV. They have redone most of the inside, putting in a sitting area, kitchen, bathroom and sleeping area, it actually looks pretty good. The roof on the inside is painted pale blue with clouds here and there. On the outside it is still a yellow school bus, with the school bus lettering on the front blacked out with spray paint and there is a gigantic roof rack which currently has a small sailboat and a canoe on it. Two kayaks will be joining it soon. So do any of your relatives/friends/coworkers do anything that is odd?
3 responses

• United States
8 May 07
That's not odd, that's cool. I am probably the one of my family that would do things like that. I own a jeep type vehicle and trying to decide how to customize it. I used to own a van and had the back filled with recliners and a couch. Had a cooler so we could just chill out back there. Ever since the Partridge Family TV show and seeing someone make a house out of an old used school bus, I have alwasy thought of doing something like that.

• Canada
10 Jul 07
I don't think the Partridge Family made their bus into a house and I was a pretty faithful fan. However, The Partridge Family is exactly what I thought of when I read this discussion. Hmmm, a van with a couch and recliners... You're not possibly between the ages of 50 and 60 are you? LOL. Was it a Chevy?

• United States
14 Jul 07
I meant the Partridge Family comment and seeing a house made from a school bus as 2 separate comments, not that the Partridge's made their bus into a house. Also I am only 49, so on the younger edge of your age range, and it was a Ford Econoline Van. ;)

• United States
8 May 07
Well that sounds like something we would do...actually it's something we WERE going to do. It's not a full size school bus but we have one of those smaller ones. We were going to fix it up and convert it. But someone was offering us a decent amount of money for the motor out of it so we took the money instead. Now the bus is making a perfectly nice shed. As for odd things that we or family members actually HAVE done...nope, I think that's still probably the oddest!

• United States
8 May 07
Hm, well not as weird as that for sure. I don't think I could really top that, but I had this one relative that told me and my cousin we dressed like well you know and she couldn't believe we were allowed to be like that and we were "floozies". She was really eccentric though, but it still annoyed me, and I don't believe she was ever invited back to my aunt's house after she made those comments to us, and everyone else.

• United States
8 May 07
Why did you title this the magic school bus? Is that what they were calling it?

• United States
8 May 07
whenever i see their bus I always think about the tv show the magic school bus