Ideas on organising scrapbook materials and tools

Singapore
May 8, 2007 4:01am CST
hi all, any good ideas for organising materials and tools? currently all my stuff is sprawled out on my desk. previously all chucked into plastic bags. not really best for easy retrieval. nor for keeping cardstock tiptop shape. do people devote entire drawers to materials? or shelves are better for easy access? please share as much as possible. esp if you have certain containers (e.g, giant plastic pillboxes) that have proven invaluable! any photos of your scrapbooking area will be much appreciated.
3 responses

• United States
9 May 07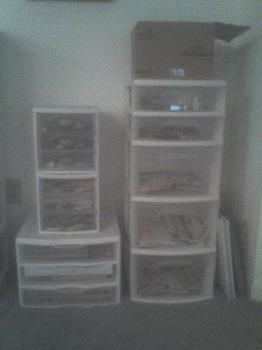 I have bought those storage containers. They are clear and have drawers. I think you know what I am talking about. They are really helpful, but I actually have 3 of them just for scrapbooking stuff. But they're not all big. I would be happy to include an image with this so you can see what I'm talking about! It's nice because the two small ones stack up. I'm sorry the picture is a little blurry!

• Singapore
9 May 07
thanks so much for your input! the picture is clear enough when enlarged! :) wow - roughly how much did it cost? yes, it looks modular and thus can be expanded. you're very organised and it looks like there's more space in every drawer still!


• India
8 May 07
i've recently taken up scrapbooking n i find it quite interestin. however, i do suffer from the same problem as you. :) so jus to maintain some sort of order, i've classified my stuff (for eg, ribbons, beads, stickers etc) and put them in bags n labelled them. not too effective, but for now it'll do, i suppose!