How much Sleep do you get every night?

United States
May 8, 2007 4:28pm CST
Are you the kind of person who has so much energy, you can go on only a few hours a night, or is hard for you to function when you get less than 8 hours of sleep at night? It is hard for me to go on less than 8 hours, if i get like 6 or less i usually get bad headaches. I love to sleep though! I could sleep 9 or 10 hours if I had the chance, especially with 2 little ones, I feel the need for sleep :)
5 responses

• Netherlands
8 May 07
On warmer days 6 hours tend to be enough for me, on the colder days though I prefer around 8~9. What also works though is to wake me up within 4 hours, then I usually am quite awake fast, but when doing that for a while the signs of lack of sleep become quite obvious.

• United States
8 May 07
So true a person who has not had a good sleep could be like a bear being woke n to early but it is not always possible to get the amount of sleep that you want so what I do is try to clear my head of every thing and try to relax all the muscles and some times that helps.

• United States
8 May 07
During the night I think I get about 6 hours of sleep but I do take a 30 minute nap during the day. I find that when I don't take the nap I pretty much am dragging myself around.

• United Kingdom
8 May 07
I'm not the best sleeper. I quite often get awoken in the night by dreams and so on, or simply in a restless state. However, I need lots of sleep, and have to catch up or I'll just feel too tired for anything. A daytime siesta, even of short duration, can be a surprisingly effective pick-me-up. I often don't get enough sleep of a night, so this pick-me-up is necessary. I need alot of sleep I think, 9 hours, perhaps. I used to need less, I think.

• United States
8 May 07
Due to school, I usually only get about 5 hours of sleep per night, though it can get as low as 3 hours. My school really piles on the work load, it's not fun at all. With the assistance of tea and coffee, though, I can function fine with that little sleep. On weekends, when I have no plans to wake up for, I usually sleep 10-12 hours per night.

• United States
8 May 07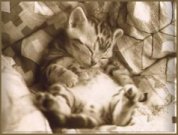 I have never really took the time to study my sleep pattern I can stay up all night and day some times and other times I can sleep allday and night I think that your body actually wants quality sleep you can sleep for eight hours and if that time was spent having one bad dream after another you are going to feel unrested even though you slept eight hours.So I firmly beleive it is the quality of sleep you get.