Cheap Wigs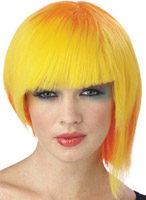 United States
May 9, 2007 12:18pm CST
I really want to get a wig, I don't care if it's costume or regular, I just really hate the color and style of my hair a lot of the time. Do any of you know of a place where you can get wigs for dirt cheap? I really like the one in the picture. I got one for $1 that's chin length and black and I loved it, but my dog ate it.
4 responses

• Las Vegas, Nevada
3 Jan 14
the hairstyle i find.you can go to the the wigs very cheap and cool!

Buy cheap wigs and best wigs at Fairywigs.com, We offer quality of human hair wigs ,lace wigs, African American Wigs, Mens wigs, wigs for black women and so on at discount wholesale price!

• India
13 Dec 07
I care to an extent but not enough to make myself crazy about it. I don't spend much time doing my hair. I usually just let it air dry unless I am going somewhere nice then I will blow dry it some. Mostly just the top/bangs I dry. I don't like to color my hair and I don't like to have long hair.

• United States
10 May 07
I love to change my hair often so I wear alot wigs, pieces and ponytails often, and change my real hair color often. I do not know anyplaces over the internet to get cheap wigs I searched no luck just locally. Wigs is the one thing that tend to run more online than in local stores. sorry babes.